America
After 63 days and countless Oreos, a record on the Pacific Coast Trail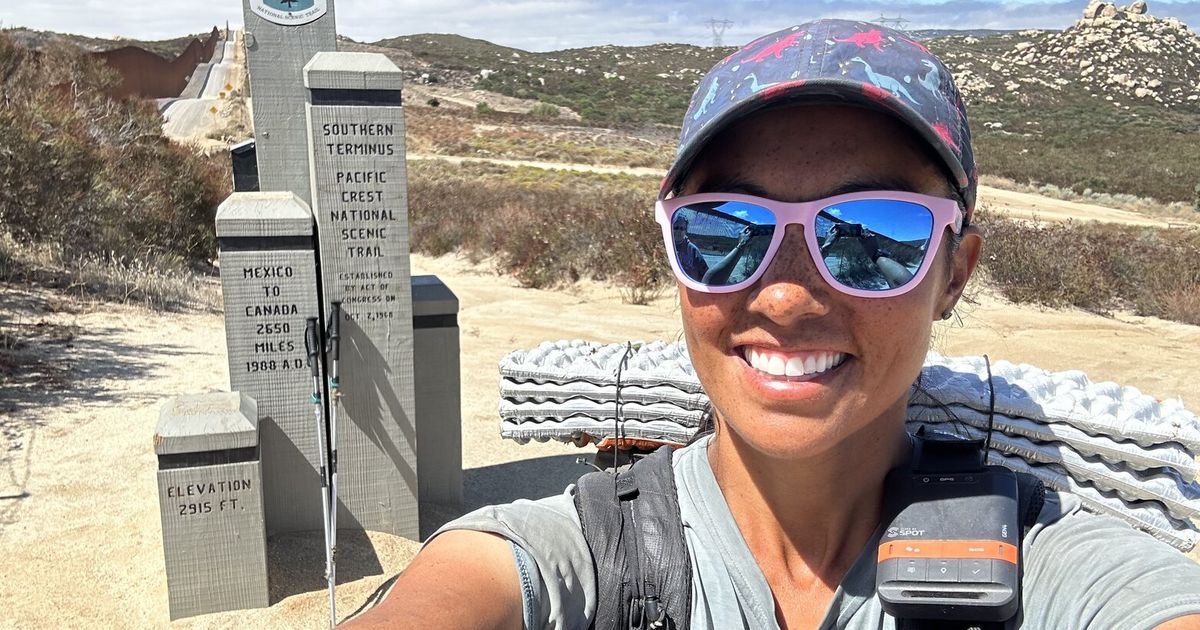 Under the full blast of the Sonoran sun in Southern California, Jessica Pekari took the final steps of an epic journey spanning more than 2,600 miles, two months and countless sleeves of Oreos on Sept. 18.
At 11:32 a.m., with only the nearby shrubs to bear witness, Pekari reached the southern terminus of the Pacific Crest Trail. Her mom, who was supposed to pick her up, had yet to arrive. Pekari, who was born in Toppenish, Yakima County, and spent much of her life in Wapato, a city in the same county, reached her destination ahead of schedule.
Even as she recounted the moment months later, she had to pause and gather her thoughts.
"I was just an emotional wreck," Pekari said. "I'm kind of glad I got there first by myself. I was just so incredibly overjoyed. I'm kind of speechless just thinking about it now. It took me so many years to get to that point."
Pekari had started the trek 63 days, seven hours and 31 minutes earlier on July 17 at the northern terminus of the trail on the Canada-Washington border.
Her hike set a record in the female north-to-south self-supported category, meaning she didn't receive help along the way from other people. She mailed supplies to various places along the trail before she left and picked them up as she went along.
The 2,653-mile trail goes from the U.S.-Canada border to the U.S.-Mexico border. Most thru-hikers complete the journey in four to six months.
Going the distance
After graduating from Wapato High School in 2003, Pekari enrolled in Yakima Valley College where she got an associate degree. Inspired by her sister who was serving overseas and not wanting to take on student debt, Pekari joined the Army in 2006.
Her fascination with endurance began during her time serving as an Army medic with the 82nd Airborne Division in Iraq. It was there she started running 5Ks and 10Ks.
"I was so undertrained, and I had no idea what I was doing," Pekari said. "In the military, you have to run. It's just part of training. So that got me more into running."
When she returned to the U.S., Pekari decided to keep running for her health. While living in Germany, where her husband was stationed, Pekari ran marathons. As time passed, she grew curious and began pushing her limits, running longer and longer races.
Over a few years, Pekari traded in 5Ks for 100-mile events.
"From there, I heard about this thing called the Triple Crown of 200s," Pekari said.
Consisting of three races, the Tahoe 200, Bigfoot 200 and Moab 240, completing the Triple Crown is considered a feat in the world of extreme distance running.
When she decided to take on the trails in 2018, Pekari placed second in the female category for the Bigfoot 200 in Washington and first place for females at the Moab 240.
"I was like 'Wow, I'm really loving this extreme distance,'" Pekari said. "I found that I really liked the long-distance stuff."
Trying in 2020
Years before, Pekari had heard about the Pacific Crest Trail but thought little of it. After her wins in Washington and Utah, though, she knew she wanted to conquer the longest trail possible.
In 2020 the stars aligned for Pekari and her family. Her husband was stationed in Colorado, and she was able to take time off for the hike. Despite the Pacific Crest Trail being orders of magnitude longer than anything she'd done before, Pekari knew she had to try.
"We'd always done stuff with our kids in shorter distances," Pekari said. "But before I attempted the PCT the first time, my longest backpacking trip was like four days."
About 1,400 miles in, Pekari was forced to cut her hike short as historically large forest fires tore across parts of California.
Pekari left her hike more motivated than ever. The next time she returned, she knew she'd finish.
"I didn't want to fail again," Pekari said. "I moved so much quicker this second time around because of it."
Using a GPS-enabled watch and a tracker that pinged her location every 30 minutes both day and night, Pekari kept meticulous track of her advancement. She tried to stick to 16-hour days, waking up at dawn and often hiking until 11:30 at night. Most days, she'd hike 20 to 40 miles.
"It's really surreal," Pekari said about having her name on the leaderboards of fastestknowntime.com, the site that keeps track of records like hers. "I can't believe I did that. It just gives me such a sense of pride, doing something that I wasn't able to accomplish the first time in 2020."
Keeping focused
Pekari said almost every aspect of the hike was appealing to her. The challenges on her body and her mind, the drive to get a competitive time, it all kept her going.
As she traversed the country's West Coast, crossing valleys, prairies, mountain passes and forests, she said she learned to respect nature and to respect herself.
During her long, solitary days — Pekari said it was rare that other hikers kept her pace or chose to hike well into the night like her — she found herself thinking about her time in Iraq, her kids and her family.
"I try to talk about my struggles with PTSD as much as possible," Pekari said. "The trail really just gave me time to process everything. Normally I'm the type that just buries everything. … The trail helped me work through my own mental struggles."
Like with anything else in life, Pekari said the trail brought with it as much beauty and calm as it did hardship.
Deep into her trek in California, Pekari came across a section of the trail known as Mission Creek, a 15-mile stretch of land that had been ravaged by Hurricane Hilary just days before she reached it.
"It just completely wiped out a lot of the trail," Pekari said. "So I'd be hiking and I'd just come across a sheer cliff. Maybe a 50- or 60-foot drop. So I'd have to backtrack or find a way to climb down and get past these insane obstacles and mudslides."
That day, Pekari said she hiked 42 miles over 23 hours and still didn't reach her expected destination for the night.
Finding beauty at Knife's Edge
Even though there were days when she felt she dropped her pace, Pekari said she still made a point of making the trip enjoyable.
She recounted a moment early in her hike and not far from Yakima County where she came across what would be the defining view.
"I think Washington has one of the best locations on the PCT," Pekari said, admitting she may be biased. "Goat Rocks wilderness just after White Pass. From there, you climb the Knife's Edge, where you're just walking across the peaks of these mountains."
Pekari said the sun had just begun to set, and she found herself completely alone on the trail.
"Normally, people bunker down for the night, but I like night hiking," Pekari said. "I got to that section, and I had the entire trail to myself. I was in awe. It was so beautiful the way the light hit the mountains. With all the reds and the pinks and purples in the sky. I felt super blessed I had hit that spot at the perfect time."
Despite aiming for a record, she still stopped when the trail demanded it.
This was the case in Oregon, where Pekari said she came across a field of huckleberries that stretched into the horizon.
"It was probably at least five or six miles of just huckleberries," Pekari said. "Instead of just blowing past them, I said, 'You know what, I have not picked huckleberries since I was a kid.' … I knew I needed to be moving, but I couldn't resist it."
Pekari said staying fed was a crucial part of her hike. For her, it was even more important to have food than something to cook it with. She didn't bring a camping stove, choosing instead to replace the weight and space it would occupy with more food, even if it meant eating glacially cold rehydrated biscuits and gravy.
For all her discipline and ability to choose pain and distance over comfort, there was one food Pekari said she could not go without: Oreos.
"I am addicted to Oreos," Pekari said. "I made sure I had a sleeve of Oreos almost every night. There were some days where I would eat two sleeves of Oreos, and the next day, I'd be hungry for more Oreos and ask myself, 'Why did I do that?'"
Now, a few months removed from her life-changing experience, Pekari said she's looking forward to her next challenge and hopefully record-breaking hike: the Colorado Trail.
A 500-600-mile hike, depending on the starting location, Pekari said she hopes to take it on next summer if the snowfall this winter isn't too bad.
After climbing more than 400,000 feet in elevation, covering Washington, Oregon and California on foot and spending long days and nights in the solace of her mind, Pekari reached her destination.
Pekari, who is of Blackfeet and Mexican descent, said she was surprised to see the U.S.-Mexico border wall just feet away from the terminus.
"You can reach out and touch the wall. It's right there," Pekari said. "I wish it wasn't there. It blocked out a really great view too."
She said the hike was something she would not have been able to do without the help from her family, her friends and her tribe.
Upon reaching the southern terminus marker, Pekari hugged it. There, she found a small, lined notebook that hikers signed when they started their journey to the north or ended their journey in the south.
In the book, Pekari wrote: "Flys High Woman, 9/18/23, 63 days solo. Thank you creator, ancestors, family and friends. I love you!!!"
Santiago Ochoa's reporting for the Yakima Herald-Republic is possible with support from Report for America and community members through the Yakima Valley Community Fund.