Bollywood
Jad Hadid on Kissing Akansha Puri in Bigg Boss OTT 2: 'She Is a Great Kisser' | Exclusive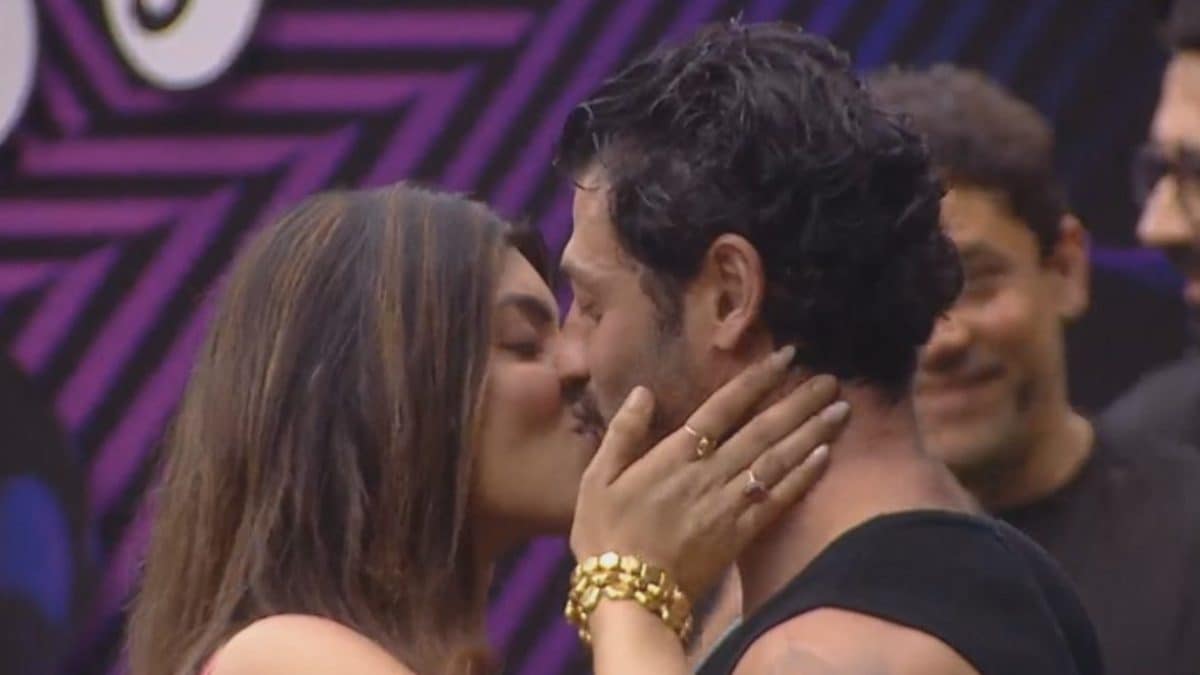 Last Updated: August 07, 2023, 18:32 IST
Akanksha Puri and Jad Hadid share a kiss as a part of the task in Bigg Boss OTT 2 house. (Photo: Twitter)
Jad Hadid along with Avinash Sachdev were evicted from Bigg Boss OTT season 2 last weekend.
One of the most talked about episode Bigg Boss OTT 2 was Jad Hadid's liplock with actor Akansha Puri. After the incident, the Lebanese model called Puri a bad kisser. Akansha, who was eliminated from the show earlier this season, had opened up about the half-a-minute long kiss and called Hadid stupid and fake. Now, in an exclusive chat with News18, Jad reacted to her statement and called the incident a mistake.
"I am okay with whatever she said. I understand where she is coming from as I made a mistake and I said that she is a bad kisser. Actually, she is a great kisser! Personally, I was giving it all during that moment especially in the last 10 seconds when I completely surrendered myself to the moment. I didn't realise what she is doing as my eyes were closed. I felt that she was just standing there for the sake of it. But I owe an apology to her," he told us.
"She is a great person and she made this journey inside the house pretty easy for me as we shared many moments and deep conversations together. I would like to meet her and discuss a lot of things. She is a kind person and I am sure didn't mean what she said about me," he added.
The Lebanese model has often been accused by fans of being inappropriate with the women housemates including. But Hadid says that he didn't have any wrong intentions with anyone. "I am an impulsive person. I remember flashing my butt (to Bebika Dhruve) and I apologised for it for a week on the show. Bebika and I are closer than we were earlier. I believe that making a mistake is fine only if you realise it and fix it. Correcting a situation is an achievement and I believe I did that with everyone," Jad said.
He added, "I come from a different culture and I express my emotions in a certain way which I was I feel I have been misunderstood. The way I hug or touch people is the way I am and there aren't any bad intentions. Besides, what intentions will I have when I have hundreds of cameras watching me 24/7. People are talking about my hug with the ladies but I was sharing the same emotion with the guys in the Bigg Boss house."
Hadid was also happy that he has been able to reconnect with his daughter after almost two months. "We did a video call as soon as I was out of the show and she was jumping with joy. She is really excited and wants me to meet her soon in Lebanon. She was happy to see me on the show and I can't wait to see her. We share a special bond and we meet at least four to five times everyday so it felt weird both of us," he concluded.