America
Prominent Seattle bartender Murray Stenson dies at age 74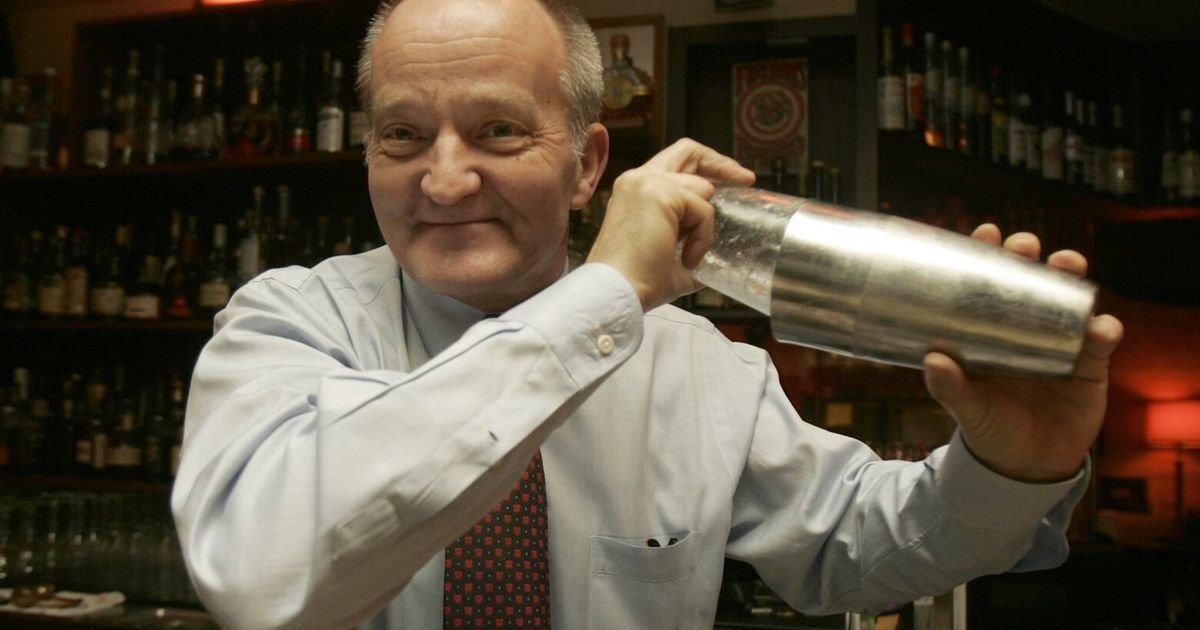 Murray Stenson, a legend in the Seattle bartending scene who was instrumental in the craft cocktail renaissance nationwide, has died.
Stenson passed away Friday morning at his apartment in Uptown, his family confirmed to The Seattle Times on Friday night. He was 74.
Stenson's daughter Cali Freddolino did not disclose details of her father's illness other than to say he had been dealing with "health complications in recent months."
In past interviews with the Seattle Times, Stenson said he had endured several health scares in the past 12 years, including a heart attack. In 2019, he came down with Guillain-Barré syndrome, a rare disorder that causes muscle weakness and left Stenson temporarily paralyzed, he told The Seattle Times in 2020. He needed a walker to get around four years ago, though in recent years his condition had improved to where he could walk unassisted. In recent months, Stenson had been seen walking around town with the aid of a cane; as recently as six weeks ago, many colleagues noticed that his physical condition was deteriorating and were alarmed enough that they started to check on his health every week.
One of the biggest celebrities in the Seattle restaurant and bar scene, Stenson worked at more than two dozen bars around Seattle during his career, most noticeably at Zig Zag Café behind Pike Place Market in two separate stints from 2000 to 2011. There, he was credited with mentoring many bartenders on how to make a proper martini and other classic cocktails, and introducing countless Prohibition-era cocktails to customers, including the gin drink "The Last Word," which has become synonymous with his name.
Stenson's celebrity stock rose in 2010 when he was anointed "Best Bartender in America" by his peers nationwide at the Tales of the Cocktail festival, one of the highest honors in the industry.
That catapulted Stenson's fame to another level as folks with just a passing interest in cocktails started lining up at Zig Zag Café a half-hour before doors opened so they could score one of the 12 coveted bar stools when Stenson held court.
Behind the bar, Stenson not only recalled names of returning customers and their drink of choice, but also names of their children or even the year their kids graduated from high school.
Robert Hess, a cocktail historian, recalled that he ordered an old-fashioned the first time he met Stenson. Hess returned a year later, and Stenson not only remembered his drink order, but said nonchalantly, 'You must like that seat. That's the same seat you sat in last time.' " Hess recalled.
It was not only his encyclopedic knowledge of cocktails but of people's life stories that made Stenson such a beloved and legendary figure, said Richard Wilson, one of Stenson's best friends.
 "He made a career out of making people who sat at his bar feel important," Wilson said.
Stenson's legacy, though, will likely be tied to an obscure cocktail called "The Last Word" that he made famous.
A collector of rare cocktail books, Stenson was leafing through the 1951 bartender's guide "Bottoms Up!" by Ted Saucier, when he came across a pre Prohibition-era gin drink that had originated at the Detroit Athletic Club.
Made with gin, fresh-squeezed lime juice, maraschino liqueur and green Chartreuse, The Last Word is a balance of sweet-and-sour, with a robust herbaceous tone.
The drink became a cult classic in the Seattle area around 2005, then made its way to the Portland bar scene and was eventually picked up at cocktail dens in New York City. The Last Word then started to appear on drink menus in Chicago and San Francisco and spread to several cities in Europe — especially around London and Amsterdam — and beyond.
Jim Meehan, the co founder of PDT in the East Village, one of the world's most famous cocktail bars, called Stenson not just a Seattle star but an international figure.
There is a worldwide shortage of Chartreuse now, and the drink that's most associated with this French herbal liqueur is The Last Word, Meehan said: "The Last Word put Chartreuse on the map. That is a good barometer of Murray's reach."
The cocktail resurgence that started in 2004 helped turn Stenson into a rockstar in the industry, as mixologist wannabes sat at Zig Zag Café, taking copious notes in their Moleskine notebooks, while watching Stenson stir drinks and quizzing him about lost classics.
"Murray was a mentor, before we ever talked about mentors." said Paul Clarke, executive editor of Imbibe Magazine. "Bartenders would come to his bar to listen, and to taste, and to watch, and to learn. He never sought the spotlight, but he knew what he meant to other bartenders in Seattle, and he took that role seriously. The Last Word may be Murray's most lasting gift to the cocktail world, but the contributions he made to Seattle's bar culture run much deeper than any drink."
"Without a doubt, he was the biggest bartending star not just in this city but in the country. No one rose to prominence the way he did," said Ben Dougherty, the owner of Zig Zag Café. "He is the most influential bartender in the country. Who is bigger? He was clever and insightful, and his memory was impeccable. He just dazzled them with his time and energy and charisma."
Stenson left Zig Zag in 2011 and worked at several bars, most notably the cocktail temple Canon on Capitol Hill. In 2012, when Stenson suffered a heart attack, the bar community from places as far away as Australia and England raised more than $200,000 to help pay for his medical bills.
Born in Corville in Eastern Washington, Stenson moved to Kirkland during his formative years.
According to a 2012 Seattle Weekly article, Stenson dropped out of Shoreline Community College and worked as a shoe salesman at JC Penney, then as a door manufacturer and as a Safeway night stocker before he found his calling as a bartender, most notably at Il Bistro at Pike Place Market.
Stenson, who was married twice, never talked much about his family and personal life, even with his colleagues and friends.
Wilson, one of his close friends, said, "he was private, and he liked to keep it that way. He was prideful. He wanted to be self-sufficient and independent and stubborn to a fault that way."
In an interview with The Seattle Times in 2020, Stenson said he had a collection of 3,000 albums that he was always sorting through. A voracious reader, he often juggled two to three books at the same time, especially novels from James Crumley, one of his favorite authors.
Stenson is survived by his daughter Cali Freddolino and his son Colin Stenson.