World
US throws its weight behind Canada's 'allegations' despite questions on evidence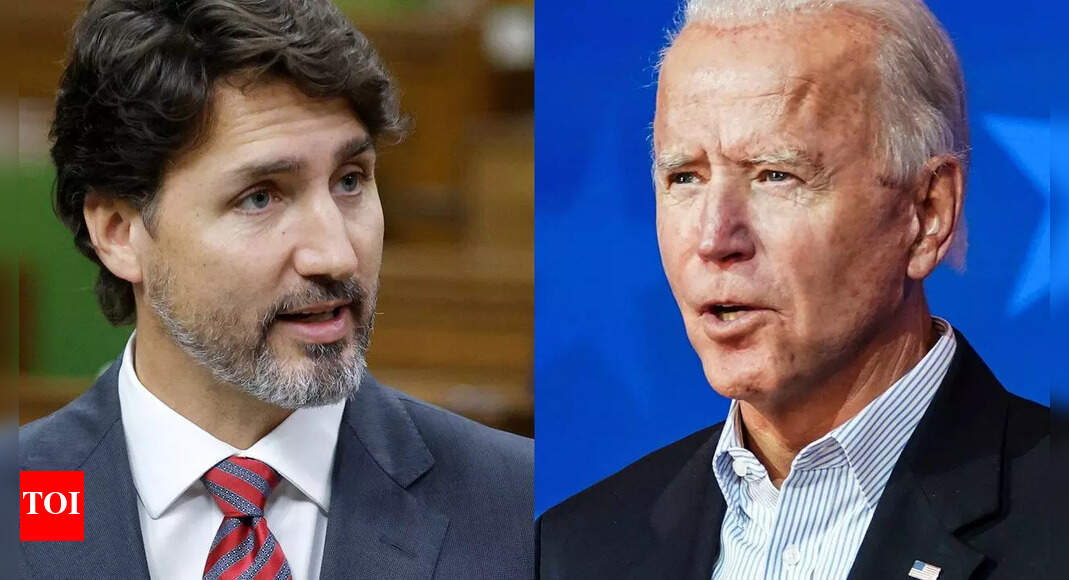 WASHINGTON: The Biden administration has thrown its weight behind Canada's allegation that India is behind the assassination of a Sikh extremist, virtually demanding that New Delhi work with Ottawa on an investigation despite Canada not presenting any evidence to make its case.
"We are deeply concerned about the allegations that Prime Minister Trudeau has raised.And from our perspective, it is critical that the Canadian investigation proceed, and it would be important that India work with the Canadians on this investigation," US Secretary of State Antony Blinken said on Friday, embracing what Trudeau has repeatedly said are "credible allegations" — not evidence — of Indian government role in the killing.
"We have been consulting throughout very closely with our Canadian colleagues – and not just consulting, coordinating with them – on this issue. We want to see accountability, and it's important that the investigation run its course and lead to that result," Blinken added, suggesting that Washington had already concluded New Delhi's hand in the assassination. The US-Canada pressure on India came despite growing questions about the evidence, or lack of it, from even Canadian commentators and public figures. Among them is David Eby, Premier of British Columbia from the New Democratic Party (NDP), a Trudeau ally, who said at a press conference that the only information provided to him by Canadian authorities regarding the India's involvement in Hardeep Nijjar's killing is "open source briefings" available to the public doing an internet search. He said he had expressed his "frustration" on the matter to the federal government.
Nijjar was killed by two masked men outside a gurdwara in Surrey, BC, which is governed by Eby, and whose NDP is headed by Jagmeet Singh. While the Trudeau government has presented Nijjar as the saintly head of a gurdwara, videos are now surfacing on social media showing him celebrating and advocating acts of terrorism and target killing of Indian public figures by separatist Khalistanis and practising with assault weapons at a shooting range.
Notwithstanding the growing scrutiny of Canadian indulgence of violent separatists, which New Delhi has raised repeatedly even before the Nijjar killing, Washington has chosen not to address the matter even though the same constituency has attacked the Indian consulate in San Francisco and threatened Indian diplomats. "I think the most productive thing that can happen now is to see this investigation move forward, be completed. And we would hope that our Indian friends would cooperate with that investigation as well," Blinken said.
Blinken went on to say, the US is now "extremely vigilant about any instances of alleged transnational repression, something we take very, very seriously. And I think it's important more broadly for the international system that any country that might consider engaging in such acts not do so." Several commentators have pointed out that the US itself has had an unmatched record of transnational repression.
Some US analysts too cautioned Washington against following Trudeau down the "anti-India rabbit hole," arguing that his allegation was a cynical political ploy to overcome declining popularity at home and the frosty reception he received at the G20 summit where he was rebuked by Modi for giving violent separatists a free run in Canada.
"Trudeau is cynical. Sikh activists are influential in key swing districts for the forthcoming election. Trudeau might simply have wanted to change the domestic political conversation when he accused India, without recognizing that he would create a diplomatic incident," Michael Rubin, a senior fellow at the American Enterprise Institute wrote in the National Interest, maintaining that "the U.S.-India relationship is simply too important to sacrifice for the venality of a Canadian politician who increasingly shows himself to be shallow and unserious."