Bollywood
Vineet Singh Hukmani Talks About His Musical Multiverse: 'I Thrive On Being Disruptive'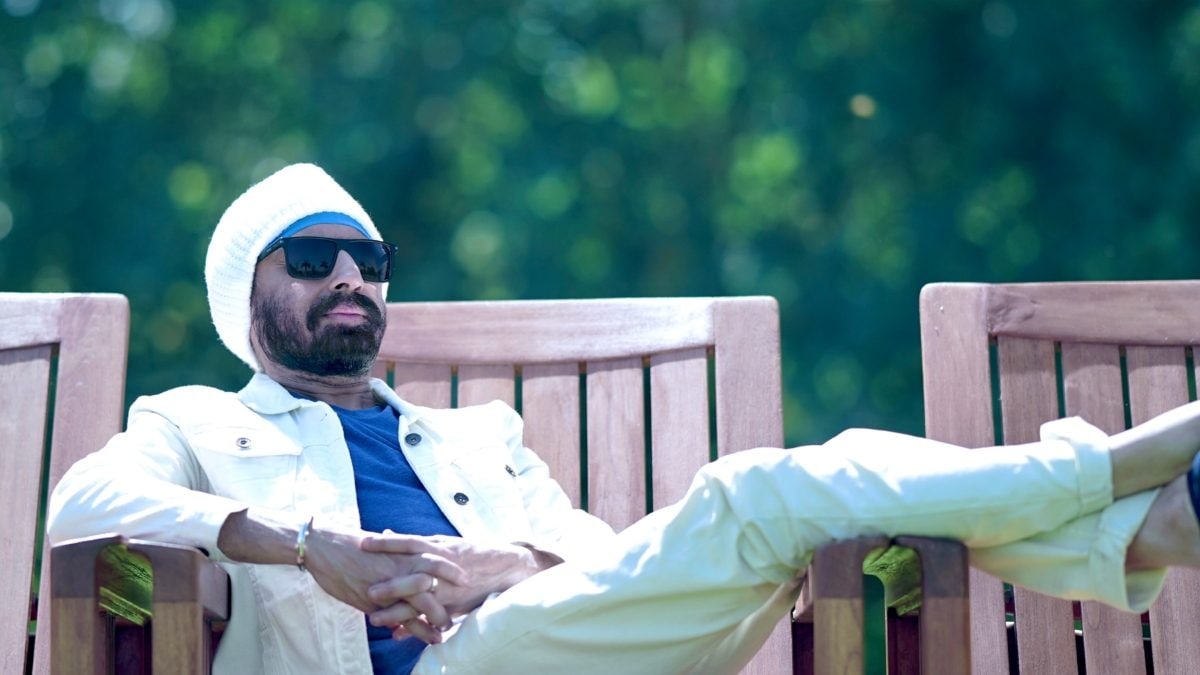 Vineet Singh Hukmani is not just an independent music artist but a storyteller. After his world-record-breaking feat of 9 number 1s in a single year in 2021 on radio charts globally, and winning awards for his unique album + book – 'Nine' in 2022, Hukmani has come out with 'one-of-a-kind' musical multiverse Run Run Run Storm! Consisting of the song called RUN! RUN! RUN! in immersive stereo and cinematic Dolby ATMOS, the album is complimented by a short music film and the launch of an original superhero comic book series.
During an exclusive interview with News18 Showsha, Vineet Singh Hukmani talked about his ambitious but path-breaking project.
Here are the excerpts:
From the beginning, how did you conceive the idea of creating a musical multiverse? And considering the magnitude of this project, how were you able to put everything together, without diluting your vision and at the same time catering to the taste of the music listeners.
It all really began with my song 'RUN RUN RUN' which is about finding the superhero within and taking life's obstacles head on. The Dolby team in India encouraged me to make a Dolby Atmos immersive audio version and while I was doing that, the song became larger than life. I then thought that a superhero character and comic book would do justice to the song and therefore the superhero 'RUN STORM' was created by me and I created the comic book. The idea to create a short music film about Run Storm followed and we used 3D animation to achieve that with support from Mercedes in India. The first music multiverse was born! Through decades of comic books and then about 10 years ago the first superhero movies inspired by movies came about, music was always a backdrop for these multiversal creations. In my multiverse, music came first. Today's generation of entertainment seekers love multidimensional offerings, so my project is a great fit! Run Run Run, this year, has been accepted for Grammy submission in the new 'Pop Dance Recording' category.
From the get-go, to make people understand the grand vision of yours, what sort of obstacles you had to pass so that experience that you promised doesn't come across as a complicated clutter? Do you feel you were able to achieve that with the project?
I thrive on doing disruptive and innovative things. This helps the audience feel delighted and gives me more touch points for revenue. Releasing music unidimensionally has its limitations as music has become a commodity of sorts. When I did my book + album NINE ( 9 thrilling stories. 9 optimistic songs), it was a
book of nine original short thriller stories and at the end of each story was a QR code
for a song based on the essence of the story. This gave my audience a different experience and allowed us to 'sell' books to them. Run Run Run took that 'multi touch point' concept forward and allowed us to sell a song, a comic book, sell gaming rights and monetize the song at a few sporting events. Being fiercely independent, I march to my own inner drum and so my obstacles are not direction led but only related to the necessary hardships that ensure great quality of the final product. My artist and reputation managers have always been supportive of my desire to innovate! My days at Harvard business school have taught me to use disruption and innovation to propel my music creativity. I have a world record of 9 number 1 singles in one year in 2021, in Europe (now totalling to 14 number 1s with my recent single Elevate in September 2023), multiple grammy submissions, both my earlier book + album and now the comic book have occupied the top 5 of the Amazon book charts for months. This tells me the projects have been received well.
Coming to the inspirations behind this multiversal project, what helped you to fuel your creativity? What kind of comic books, graphic novels and especially music helped you to design this world?
VSH: Everyone who loves comic books has to be inspired by the depth of multiple characters created by Marvel and DC. My music inspiration goes right from the synth based 80s global pop hits to current English chartbusters. However, with Run Run Run the challenge was to begin with a song and create the superhero multiverse
around it. The world of Run Storm is quite indigenous but at the same time intergalactic and that was a lot of fun to create. I also love how the Grammys have a category for 'crafts' where the 'design' of music packaging is as important as the music itself. With my book Nine we were able to get a Grammy submission in 2022! Perhaps Run Storm's world will find its way there too.
Considering this musical multiverse thing is quite new, how influential would it
be for other artists to create something of their own? Do you believe the world is ready for an interactive musical extravaganza as of today?
VSH: The audience today leads multiversal lives! A banker by day is doing comedy on instagram on the side and probably has a totally vibrant gaming avatar. Such multidimensional people get bored with unidimensional content. The business reason to do multiversal storytelling is that it creates more touch points for revenue with the audience. A lot of songs that are originally in gaming are hitting the charts, so
musicians globally are already taking advantage of any new opportunity! The world is
getting more and more digital, interactive and fast! Interactive entertainment is therefore the natural extension for musicians!
Whenever an artist ventures out to do something experimental and new, there are always some naysayers that deem it impossible or improbable. Was it the same with you? If yes, how did you navigate that? Also, at any given point of time, did you fall prey to intrusive thoughts whether you'll be able to pull it off?
VSH: I tend to be so shamelessly joyful with every new creation that I can't even hear the naysayers! Honestly I pay full attention to my audience (and less to the current safe trade practices) and that guides me well. With every new song, genre of music, the interactive book, comic book based multiverse I have learnt from new ideas, technology and how the audience accepts these innovations! In my latest song 'Elevate' I wanted to create a song about unity and harmony lyrically, with an Indian semi-classical touch musically, but use technology to bring alive the most revered teachers of unity namely Mahatma Gandhi Ji, Mother Teresa, Nelson Mandela, Martin Luther King and others. While the song audio is all natural, I have learnt the
use of multiple AI softwares to enhance the music video of this song which now has over a Million views on Youtube! We are hopeful for Grammy consideration for this song in 4 categories namely Best Global Music Performance, Song of the Year, Record of the Year and Best Music Video. Innovation and speed are the best ways to avoid any negative intrusive thoughts and so I have never worried about pulling it off.
Talking about the short film and the superhero bit of it, what otherworldly qualities or traits did you give them so that they stand out and become an entity that encompasses all the values that you want to impart through this project? What were some of your reference points?
VSH: My reference point is always basic human optimism in all my songs. I always want to communicate the powers of optimism to my audience as we all lead difficult and fragile lives. 'Run Storm' is a superhero within everyone who pushes himself out of difficulty to not only run across galaxies but help the world in finding precious 'hope energy'. His adversary 'Dejectra' symbolises dejection and I want to help my listeners find a way to do that on a day to day basis. My book + album NINE too was about the thrill of optimism. With Elevate I wanted to remind people that the positive powers of
Unity and Harmony far outweigh divisive and polarised thoughts. I am grateful to be able to see the little things that guide human behaviour and use my music and multiversal creations to provide the hope needed to move forward confidently.
How do you plan to make this project and your multiverse even bigger in the coming times? What more do you have in store for everyone? And whether you plan to collaborate with other indie artists/film-makers for the same?
VSH: My multiversal music idea is a collaborative one in its design itself! The comic book is episodic so that it opens collaboration opportunities with other independent singers to portray primary characters in future comic book episodes which also allow them to also present their music creations for our combined audience. We have a unique revenue sharing model in this and so we look forward to many collaborations. The book of stories Nine and the comic book Run Storm and the Hope Star have been pitched to some filmmakers and we are waiting to see how they react. My new project is my first song in Hindi! This is after 3 years of focussing on
multiple English music genres and achieving radio and chart success globally! I was waiting for inspiration and a powerful reason to write and I have finally found that! Our remarkable Indian space achievements with the Chandrayaan 3 lunar landing, the Aditya Sun mission & the upcoming Gaganyaan mission, have truly fired me up with wonderful patriotic fervour! This has set the tone for the launch of my first song in Hindi titled 'ISRO. India Ka Asli Hero this month! I'm excited to share it with
everyone.