America
WA food bank lines grow as COVID-era benefits end, grocery prices rise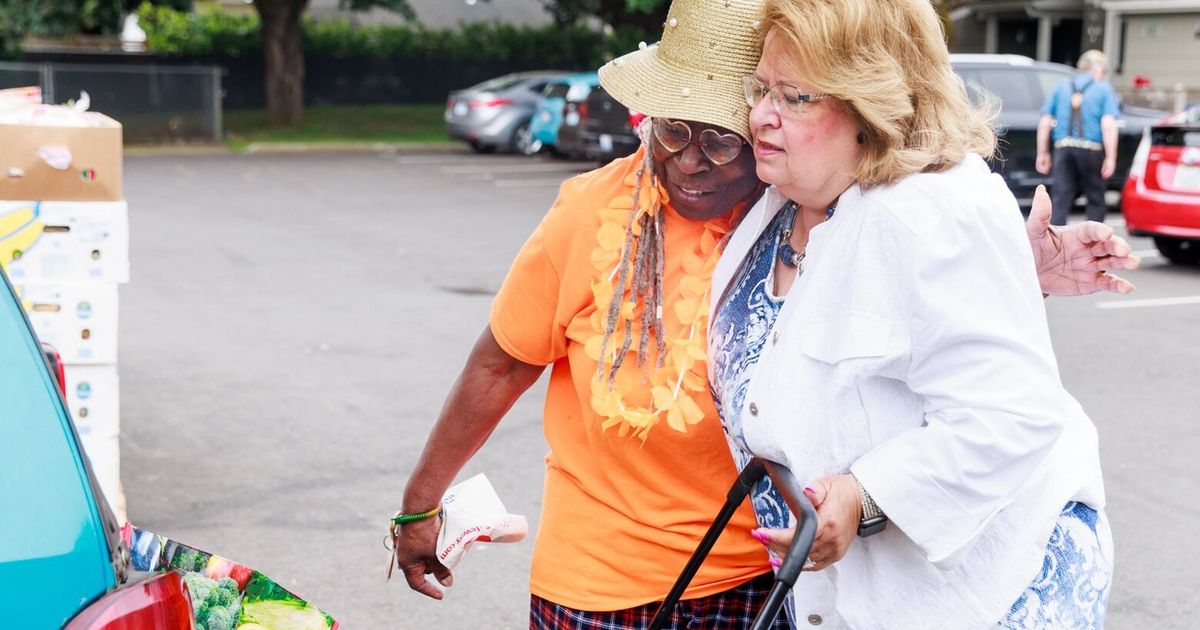 Leaning against her rolling walker outside the Auburn Food Bank, Dee Jones could hardly believe she had found herself in this position again. 
At the end of February, her monthly Supplemental Nutrition Assistance Program food benefits were cut by about half when the federal government ended its boosted payments that were designed to help millions of low-income households cope with COVID-19's financial pressures.
The rollback comes as people face rising food bills and the threat of an economic recession. Food banks throughout the greater Seattle area and across the country have seen swelling demand, as people, including working families and those on fixed incomes, seek help to stock their fridges and pantries.
Jones hadn't been to a food bank in years, but with her monthly food assistance down to roughly $150, she said she doesn't see another choice. The new amount is only enough for about a week's worth of food, given the inflation-fueled prices at grocery stores these days, she said.
"I was doing good, I didn't have to go to any when I was getting that," Jones said of the increased benefits during the pandemic. "Why would they take that from us when it was helping us?" 
About 522,200 households in Washington state — or about 921,000 people — rely on SNAP benefits, referred to as Basic Food in the state and colloquially known as food stamps.
Normally, food assistance amounts are based on annual income and household size. But during the pandemic, all households received the maximum amount they were eligible for based on size alone, meaning an extra $95 or more per month.
With the end of emergency allotments, households saw, on average, a reduction of about $105 per person in March, according to the state Department of Social and Health Services. 
The Asian Counseling and Referral Service Food Bank in the Chinatown International District saw an increase of 300 visitors in March, and is planning for a continued uptick in anticipation of an economic downturn, according to interim director of nutrition programs Miguel Saldin.
At Byrd Barr Place in the Central District, officials saw a roughly 30% increase in client visits in March, according to spokesperson Kara Palmer, with those increased numbers holding steady into April and May.   
The Rainier Valley Food Bank has seen about a 20% increase in clients compared with last summer, according to development director Kathy Ulrich. 
"We're starting to serve a new population of working poor folks who are needing to make ends meet and balance their budget," Ulrich said. "Providing one or two bags of fresh, balanced food, that takes a lot of pressure off their household budget."
Over the last year, food prices in the Seattle region rose 8%, according to the Bureau of Labor Statistics. The price of cereals and baked goods went up 9.3%, and milk and cheese increased 11.6%. 
Outside of the temporary boost to SNAP benefits, the average food assistance payment to households is higher now than before the pandemic because of permanent cost-of-living adjustments. 
In February 2020 in King County, about 98,000 households, or roughly 161,000 people, received SNAP benefits, with an average monthly benefit of $123 per person. Last month, about 117,000 households received food assistance, with the average monthly benefit at $179 per person. 
SNAP benefits overall are now an average of 45% higher per household than before COVID-19, per state data. 
But even with the hefty increases, SNAP recipients are feeling the squeeze as the pandemic-era assistance ends. Families that had previously received about $200 a month are now down to $16 a month, said Debbie Christian, executive director of the Auburn Food Bank. 
Since March, the food bank has broken its record three times for the highest number of people served in a day since 2019, when the organization started allowing three visits a month. More and more, people like Jones who haven't been to the food bank in years, are showing up, Christian said. 
"That's hard on them; they felt they had moved above the poverty line, got some stability but, 'Here it is 2023 and here I am back in the food line asking strangers for help,'" Christian said. 
The rising cost of groceries affects food banks as well. In the first three months of this year, the Rainier Valley Food Bank spent about 21% more on food purchases than it did last year for the same amount of food, according to Ulrich.  
In addition to the end of COVID-19 relief funding and diminishing private donations, food banks across the region are bracing for a potential recession. 
"There is a bit of donor fatigue, and it's challenging to explain to folks there's a long economic tail of COVID," said Ulrich.  
Many, like Ethel Craven-Sweet, are taking it day by day. 
"I'm very careful about what I can buy. … Everything is so high, I have to be very selective," said the 87-year-old Auburn resident, after having spent her Friday morning at the local food bank. "It's called survival." 
Craven-Sweet would rather shop at the Fred Meyer next door to her house, but the prices have become prohibitive. Her food assistance was reduced by about a third after February's rollback, she said.  
While she is grateful for the temporary boost, seeing the drop has left her frustrated. "What's the use of giving a raise if you're going to take it back?" Craven-Sweet said.  
She surveyed her haul from the morning — bacon and eggs, a block of mild cheddar cheese, a couple of packs of yogurt. It was her first time at the food bank since December, she said, but she thinks she may soon become a regular. 
Seattle Times staff photographer Erika Schultz contributed to this report.