Politics
Biden faces dismal approval rating on the economy after launching 2024 campaign
Americans are deeply skeptical of President Biden's ability to handle the economy going into his 2024 re-election campaign, according to a new poll.
The poll from the Associated Press and the National Opinion Research Center (AP-NORC) at the University of Chicago found that Biden has just 33% approval when it comes to economic issues, and Americans are similarly skeptical of his ability to handle guns and immigration, at just 31% for both issues.
Meanwhile, Biden's overall approval rating is sitting at 40%, according to the poll, which was released Monday. The figure marks a rise compared to earlier this year, when Biden faced numbers as low as 36%.
AP-NORC conducted the poll from May 11-15, surveying some 1,680 U.S. adults, and reported a margin of error of 3.4%.
BIDEN TORCHED OVER CLASSIFIED DOCS EXCUSES: 'WHAT'S NEXT, 'CORNPOP DID IT?'
Biden's poor numbers on immigration and the economy come as his administration faces backlash for the end of Title 42. Illegal immigration has surged to record-breaking numbers under Biden.
When Biden entered office in 2021, the U.S. Customs and Border Protection (CBP) tracked some 100,000 encounters each month. By last fall, however, that number had risen to well over 230,00. CBP agents tracked more than 250,000 border crossings for multiple months.
Meanwhile, former President Trump has long polled better than Biden on economic issues and immigration, with Americans more confident in his ability to handle inflation.
FOX NEWS POLL: 4 IN 10 THINK BOTH DONALD TRUMP AND HUNTER BIDEN BROKE THE LAW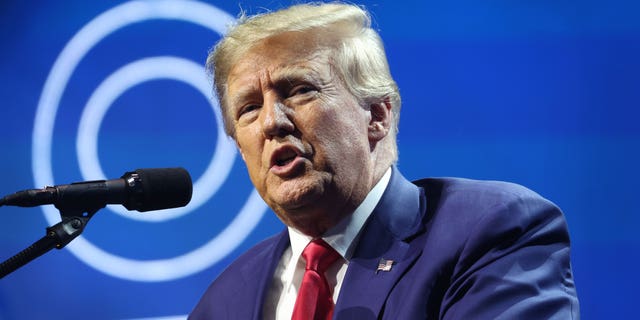 Biden recently took heavy flak from Republicans for ending Title 42, a Trump-era policy allowing for more speedy deportations at the U.S.-Mexico border. Immigration reached record daily levels at the border in the days prior to Title 42's end, largely do to a reported whisper campaign among migrants who believed the best time to enter the U.S. was before the policy ended.
After Title 42's end, the U.S. has seen a 70% drop in illegal immigration in some areas.