America
Landslide prompts trek for Mount St. Helens observatory supplies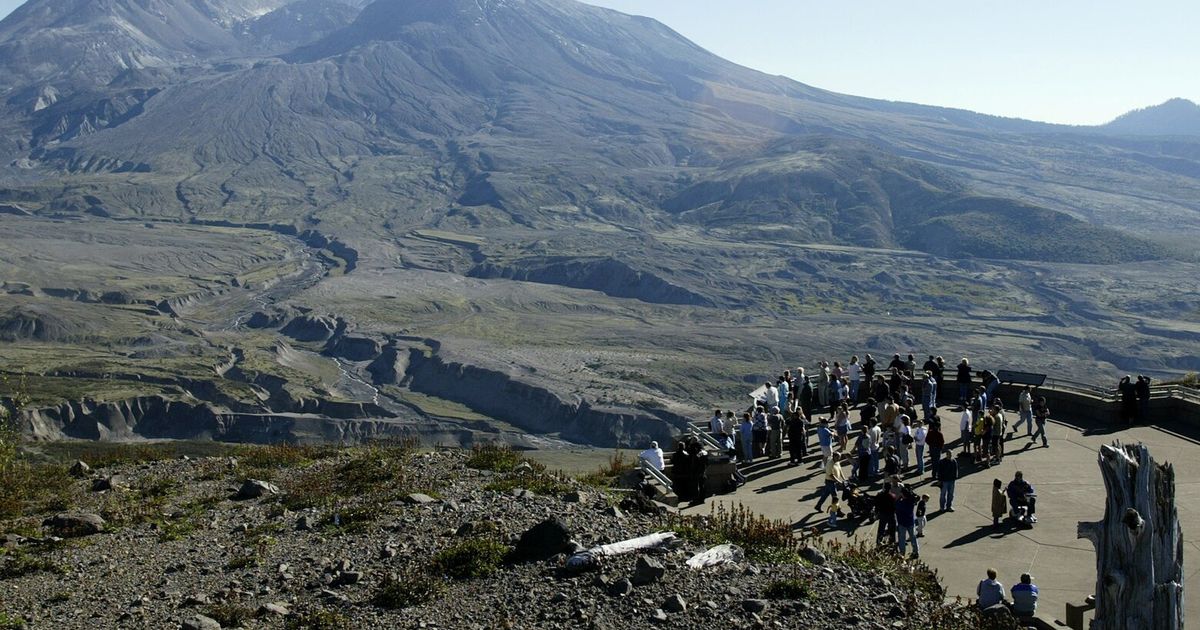 MOUNT ST. HELENS NATIONAL VOLCANIC MONUMENT, Skamania County — Early Tuesday morning, a small group of outdoor adventurers ascended a foot path toward Johnston Ridge Observatory, now dark, cold and desolate, to gather supplies necessary for its summer operations.
Shortly after 9 p.m. May 14, a mixture of mud, rocks and water barreled over Spirit Lake Memorial Highway near Milepost 43, burying the passage and damaging its 85-foot bridge. The debris, which flowed from 2,000 feet above the road, blocks visitors' only access point to the observatory.
Prior to setting off Tuesday, U.S. Forest Service staff and a dozen Mount St. Helens Institute volunteers stood with empty packs soon to be filled with radios, computers and informational sheets. Some checked their headlamps, a necessity for roaming and scavenging the building, which suffered a power outage following the slide.
"So, I know where the stuff is," joked Kristi Cochrane, U.S. Forest Service visitor centers director. "And things are kind of hiding."
Their goal: Gather useful items so Johnston Ridge Observatory — originally scheduled to open its doors Monday morning — can function at the Coldwater Science and Learning Center, a space occupied by educational nonprofit Mount St. Helens Institute. Much remains left behind, including bulkier tech, registers and office supplies, which helicopters will eventually retrieve.
Closures
The U.S. Forest Service reports that Lakes trail No. 211, Coldwater trail No. 230, Hummocks trail No. 229 and Birth of a Lake trail No. 246 are closed. Boundary trail No. 1 is not accessible either from the Mount St. Helens side.
Johnston Ridge Observatory sits at the end of Spirit Lake Memorial Highway in the center of Mount St. Helens' blast zone, presenting a prime view of the volcano and its crater. Cochrane said visitors can still catch an equally stellar glimpse of the landscape at the Castle Lake Viewpoint Observation Site, near Milepost 40.
Forest Service officials are improvising how to reorient their administrative offices at the center, though there will still be opportunities to recreate. Cochrane said staff hope to retain educational programs if possible, such as the Winds of Change Trail nature walk.
Land of slides
The main path between the Coldwater center and observatory, Hummocks Trail, led the response group over buried mounds of Mount St. Helens' north flank that it shed after its 1980 eruption. Boots wove through wetlands, red alders and various pockets of life, which existed decades ago as a treacherous landscape full of jagged and steep deposits of gravel, ash and shuffled rock.
Ray Yurkewycz, Mount St. Helens Institute executive director, said the recent landslide is a token of the volcano's continued relevance.
"You're still reminded of this level of power and control that we're rarely exposed to as humans," he remarked, motioning to the terrain. "But in general, it's really an inspiring thing. You can't help but wonder, 'How did this happen?' "
Multiple schools canceled field trips to the institute following the landslide fearing dangerous conditions, leaving dozens of children to ponder that big question in the classroom. Mount St. Helens Institute lost about 10,000 hours in revenue from the cancellations, Yurkewycz said.
But, back to that question: What caused the landslide?
Kurt Spicer, U.S. Geological Survey hydraulic technician at the Cascades Volcano Observatory, posited that abnormally warm temperatures likely melted the snowpack and set the landslide in motion.
It was composed of deposits created by Mount St. Helens' 1980 eruption, which are more vulnerable to loosening when saturated with water. This type of material is widespread throughout the valley and experiences earth flows, with many existing in locations away from Spirit Lake Memorial Highway.
"[The landslide] is part of a continuing process, started in 1980, that delivers sediment into the river," he said. "It's relatively rare that it impacts human structures, but it's a problem elsewhere."
Landslides can distribute sediment into waterways, such as the Cowlitz and North Fork Toutle rivers, which can result in flooding, fish migration and shipping channels downstream.
Highway response
Mount St. Helens' eruptive return in 1980 wreaked havoc on Spirit Lake Memorial Highway, established in 1903, after being dormant for more than a century.
Washington State Department of Transportation engineer Paul Harrison, now based in Clark County, started his career at the agency by designing a portion of the road that was damaged in the eruption. And his focus area happened to be on the last 7 miles of the passage, near where May 14's landslide swept through.
Construction on the 23-mile stretch of new road began roughly a decade after the blow, taking shape at a higher elevation and featuring 10 major bridges.
"In my 33 years working with the state, this had to be one of the most exciting projects that I had ever worked on," Harrison said. "The terrain, even 10 years after the mountain blew, was still devastated."
Colin Newell, WSDOT engineer, did survey work during the highway's initial reconstruction and is coordinating efforts to address the recent landslide.
The response team, composed of the U.S. Forest Service, Geological Survey, Army Corps of Engineers and WSDOT, will cross-reference recently collected lidar data with ground information, which will enable them to create a clearance plan and repair strategy.
But it will take time.
"We have a high-to-moderate risk of things still happening in the slide," Newell said. "And there's a high severity rate if something happens when you're standing in the middle of debris with an excavator."
More information on the closure will be released next week, though there is no expected time for the highway's reopening. In the meantime, Coldwater Lake, the Hummocks Trail and Johnston Ridge Observatory remain closed.
This story was made possible by Community Funded Journalism, a project from The Columbian and the Local Media Foundation. Top donors include the Ed and Dollie Lynch Fund, Patricia, David and Jacob Nierenberg, Connie and Lee Kearney, Steve and Jan Oliva, The Cowlitz Tribal Foundation and the Mason E. Nolan Charitable Fund. The Columbian controls all content.