America
Longtime Yakima businessman responsible for 'Palm Springs of Washington' sign remembered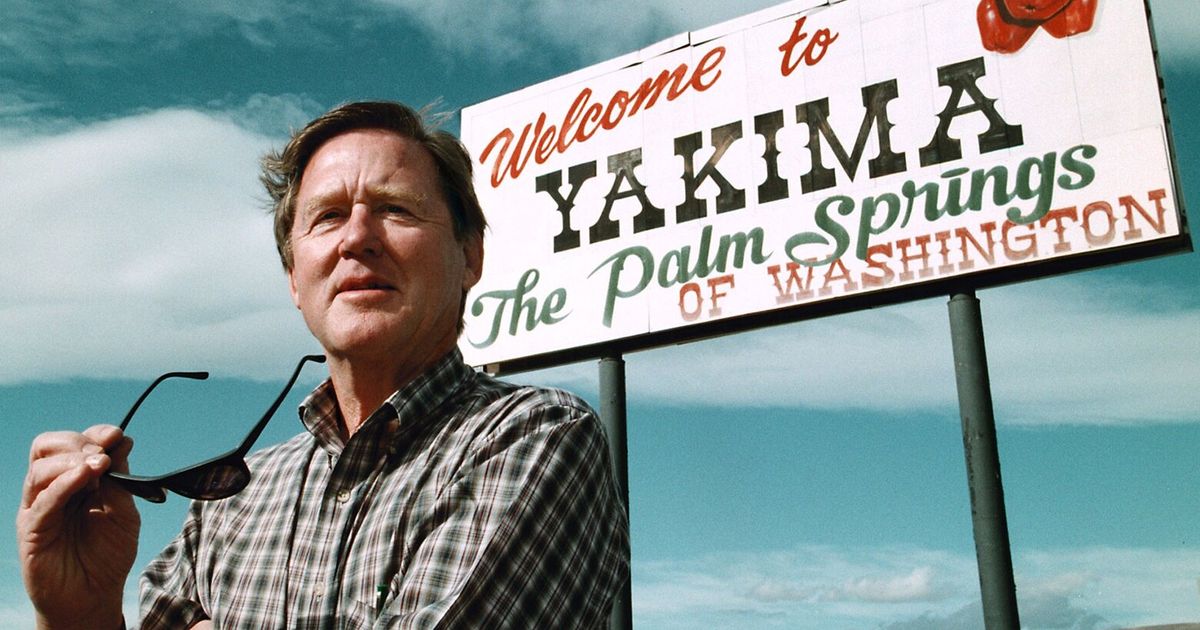 Longtime Yakima Valley businessman, rancher and outdoorsman Gary Lukehart, who among other achievements helped create the SunDome and erected the "Palm Springs of Washington" sign along Interstate 82, died in February, his wife said.
A memorial service will be held Memorial Day weekend.
"He's done so much for the community — Yakima was his place," said his wife, Mary Lukehart. "We moved over 50 years ago from San Jose, California, and I became a farm girl. We were never sorry that we bought the ranch."
The Lukeharts, who married in 1956, moved to Naches, Yakima County, with their three children in 1969 and established the Running Springs Ranch. Its "big red barn" has hosted weddings, special events and celebrations for decades, Mary Lukehart said.
Besides raising animals such as cattle, horses, goats and pigs on the ranch, Gary Lukehart was a businessman and investor driven by a strong work ethic, his wife said.
"You've gotta build those things"
One of his most successful business ventures was Chinook RVs, made for many years in Union Gap, Yakima County.
At a 2019 West Chinook RV mini rally at Running Springs Ranch, Gary told the Yakima Herald-Republic how he got started in the RV business.
Growing up in California, Gary and his father, Don Lukehart Sr., enjoyed the outdoors but were frustrated by a lack of recreational vehicles. So they converted a Chevrolet Corvair into a mini camper in 1961.
"Everybody looked at it and said, 'Jeez, you've gotta build those things.' I found myself in the business," Lukehart said.
He started producing the campers, also known as "surfer vans," in San Jose and Los Angeles. Some had creative paint names like Sublime Lime, Omaha Orange, Panther Pink and Plum Crazy.
His 1962 model slept their family of five, Gary told the Herald-Republic. He and Mary occupied the back, their son slept in the front seats, and their twins took the cots overhead.
"We went from camper-type (RVs), then luxury vans, surfer vans. Then we started building bigger units with a van front and fiberglass body," Gary Lukehart said.
Lukehart designed the first version of a Chinook RV with a one-piece body in 1971, shortly after he and his family moved to Yakima — when his company merged with Chinook Co. and Lukehart became president.
The company's Union Gap production plant closed in 2006. Lukehart sold the brand in 2013.
The SunDome and the sign
Lukehart got involved in economic development later in his career, building a prominent Yakima shopping center and working with the Central Washington State Fair board to build the Yakima Valley SunDome.
Since it opened in 1990, the building has housed community expos, graduations and sporting events.
Planning for the building began years earlier, when state Sen. Alex Deccio obtained $6.5 million in state funding for the project and also sponsored legislation to allow Yakima to tax motel and hotel room rentals, providing a revenue source to finance construction costs.
Yakima and Union Gap matched the state funding, and Lukehart — as Central Washington State Fair Board president — urged that the structure be built as a dome.
"Square buildings don't fire me up," Lukehart said in a 2010 interview. "I was interested in building something special."
He chartered a plane to fly the building committee to Portland to look at the dome at Portland State University, the Herald-Republic reported. On the flight home, the plane flew over the structure on a sunny day, and Lukehart was struck with a name for Yakima's building: the SunDome.
Lukehart also developed the Gateway Shopping Center, housing Target and other businesses just off I-82. As part of other developments in the area, Lukehart built the sign proclaiming Yakima as the "Palm Springs of Washington."
As the Herald-Republic reported in a 2017 history column, the billboard originally was built for Yakima's centennial.
Lukehart said he always wanted to see a "Welcome to Yakima" sign on the freeway as people come into the area. So, when the city's centennial rolled around in 1985, he and others erected the billboard on his freeway property to tout the anniversary. Along with "Welcome to Yakima," it also bore the city's centennial years.
More than a year later, Lukehart wanted to keep the "Welcome to Yakima" part but needed something to replace the reference to the centennial, the Herald-Republic reported.
He then remembered his time living in Los Angeles, and how Angelenos would decamp to Palm Springs to escape the winter fog along the coast. Like Yakima, Palm Springs has a sunnier, more arid climate than the coastal area.
To highlight the similar difference between Yakima and the "wet side" of Washington, Lukehart coined the phrase: "the Palm Springs of Washington."
"I didn't go to a committee or try to sell it to a committee," Lukehart said. "It was just the experience I had in my lifetime."
When the reworked sign was unveiled in 1987, Lukehart said it sparked some conversation, but he said the phrase caught on with younger people and has become an unofficial moniker for the city.
Mary Lukehart said her husband enjoyed the sign's lasting notoriety.
"He thought [the sign] would be a fun way to promote the area … when he went ahead and did it, eventually everybody loved it," Mary Lukehart said. "I used to get some weird phone calls at the ranch about it, when he first did it."
According to Lukehart's obituary, he, Mary and their children, Roz, Dan and Dain enjoyed family trips camping, boating, hunting and fishing.
Gary Lukehart also loved football, having played as a quarterback and running back when he attended Oregon State University in the 1950s. One of his teams went to the Rose Bowl in 1957, competing against the University of Iowa in Pasadena, Calif.
Lukehart earned a bachelor's degree in business from Oregon State, and with his wife donated to and participated in various community organizations in the Yakima Valley.
He was honored with the Greater Yakima Chamber of Commerce Ted Robertson Community Service Award in 2010.