World
Marape: James Marape: Who is Papua New Guinea leader who touched PM Modi's feet? | India News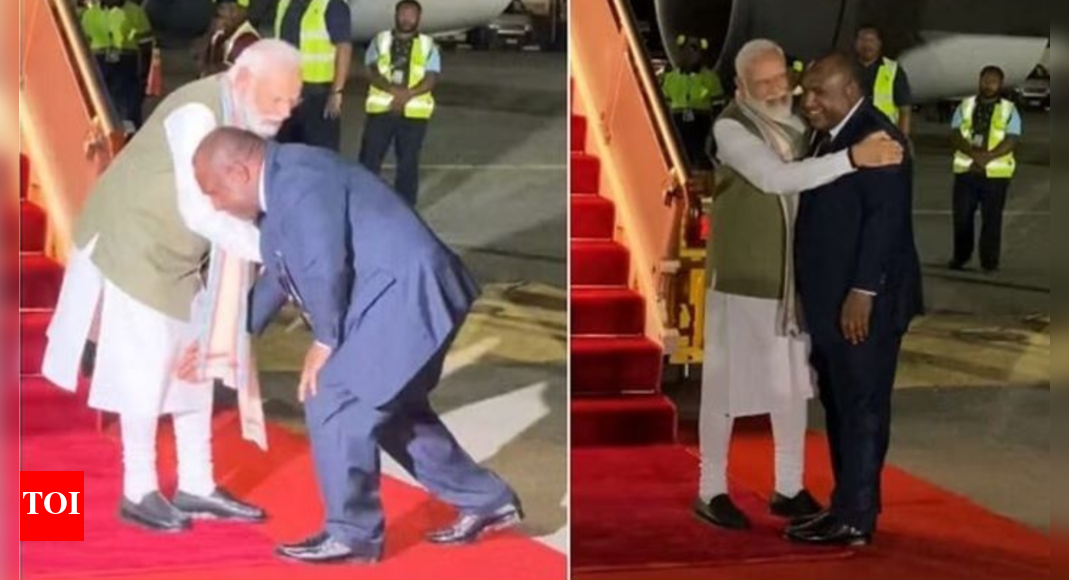 NEW DELHI: During Prime Minister Narendra Modi's visit to
Papua New Guinea
(PNG) on Sunday, a remarkable moment unfolded at the Port Moresby airport, where PNG Prime Minister James Marape humbly touched PM Modi's feet and sought his blessings.
PM Modi's visit to the Indo-Pacific country marked the second leg of his three-country tour. As he arrived, the Indian national anthem resonated through the air, prompting both prime ministers to stand still in a show of respect. Additionally, a guard of honour was extended to PM Modi upon his arrival.
This visit holds significant historical significance as it marks PM Modi's inaugural tour to PNG, making him the first Indian Prime Minister to ever set foot in this Indo-Pacific nation.
Traditionally, Papua New Guinea does not bestow ceremonial welcomes to visiting leaders after sunset. However, in an exceptional gesture, the nation made a special arrangement for PM Modi, honoring him with a fully adorned ceremonial welcome.
Here is all you need to know about James Marape
*James Marape is the 8th Prime Minister of Papua New Guinea, in office since May 2019. He has been a member of the National Parliament of Papua New Guinea since July 2007, representing the electorate of Tari-Pori Open in Hela Province in the highlands.
*In 2019, Marape led a successful no-confidence motion against O'Neill and became Prime Minister. He has pledged to improve the economy, reduce corruption, and unite the country.
*As Prime Minister, Marape has focused on improving the economy and reducing corruption. He has also pledged to address the country's infrastructure challenges and to improve the delivery of essential services.
*Marape was elected to the National Parliament in the 2007 general election. He was appointed Minister of Education in the government of Prime Minister
Michael Somare
. In 2012, he was appointed Minister of Finance.
*Marape was educated at Tari Primary School, Tari High School, and the University of Papua New Guinea, where he graduated with a Bachelor of Arts degree in 1993. He then worked as a teacher and businessman before entering politics.
*Marape was born on 24 April 1971 in Tari, Hela Province.
*He is a member of the Huli people, one of the country's largest tribes and ethnic groups. Marape's father was a Seventh-day Adventist pastor with Marape identifying with the church as well.
*Marape is married to Rachael Marape, who is originally from East Sepik Province. The couple have six children.
(With inputs from agencies)