Bollywood
Nidhi Shah, Aashish Mehrotra DISMISS Paras Kalnawat's '80 Percent Cast Wants to Exit' Claim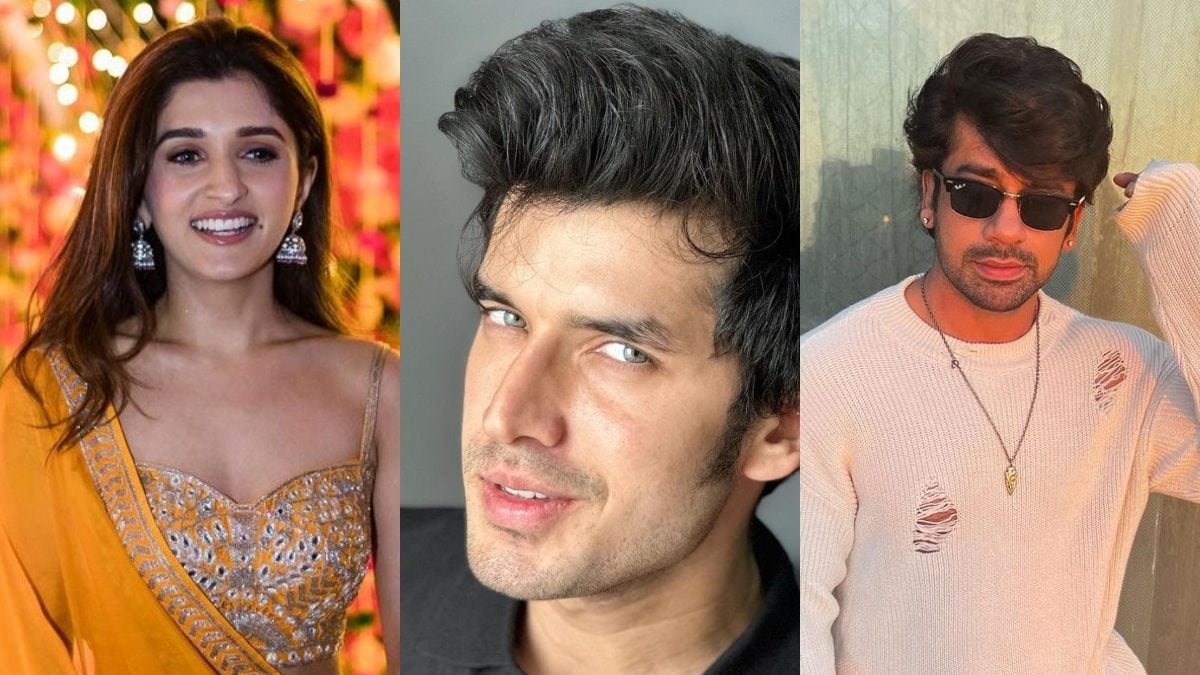 Nidhi Shah, Aashish Mehrotra play the role of Kinjal and Toshu respectively in Anupamaa. (Photos: Instagram)
While Nidhi Shah questioned Paras Kalnawat's claim, Aashish Mehrotra called it 'funny' and took an indirect jibe on his former co-star.
Days after television actor Paras Kalnawat claimed that 80 percent of the Anupamaa stars would want to exit the show if given a chance, Nidhi Shah and Aashish Mehrotra have reacted to it. The two play the role of Kinjal and Toshu in the Rupali Ganguly starrer show.
Nidhi Shah Questions Paras Kalnawat's Claim
In a recent interview, Nidhi Shah questioned Paras Kalnawat's claim and argued that all actors are very much happy being a part of Anupamaa. "The show is doing too well and it's for a reason. Each member of the cast is loving (and enjoying) what they're doing and everything is coming out so well. Why would anyone leave a show which is number one for the past three years?" she said as quoted by Pinkvilla and further added, "But, I don't think there's anyone on our set who is willing to leave. Nobody has any pressure over here. I don't know why Paras is saying all these things."
Aashish Mehrotra Calls Paras Kalnawat's Statement 'Funny' 
Aashish also reacted to his former co-star's comment and took a 'negative heart' dig at him. He claimed that the 'vibe' of the set is 'really good' and called Paras' statement 'funny'. "I don't know what made him say that. It is really funny so I really have no comment on it. Anyone can say anything. If a show's off screen energy is negative, then it reflects on the show's quality as well. If you do anything from a negative heart, it will always show in your body language or on your face and even in your work. The set's vibe is really good. And this statement sounds really funny to me," he said.
What Paras Kalnawat Said About Leaving Anupamaa? 
Paras Kalnawat recently conducted an 'Ask Me Anything' session on Instagram when a user asked him the reason for leaving the Rupali Ganguly starrer show. Paras mentioned that he is at a 'much better' place now and claimed that 80 percent of the Anupamaa actors would want to quit if given a chance. "I would always be thankful to the makers for giving me such a great show. But yaaron kahin pohochne ke liye kahin se nikalna zaroori hota hai and I believe I'm at a much better and peaceful place. Honestly speaking 80% of the cast would want to exit if given an opportunity. Risk lene ki aur sahi ke liye ladne ki taaqat har kisi mein nahi hoti," he wrote.
Why Paras Kalnawat Was Ousted From Anupamaa?
Paras Kalnawat used to play the role of Samar Shah in Anupamaa. However, his contract was terminated in July 2022 after he allegedly signed the celebrity dance reality show Jhalak Dikhla Jaa 10 without informing the makers. "We as a production house won't entertain breach of contract. We have terminated his services as an actor with immediate effect. We wish him all the best for his future endeavors," the show's producer Rajan Shahi had said in a statement. However, later, in an exclusive interview with News18 Showsha, called his termination a 'PR tactic'.