Republican presidential candidate Tim Scott is living up to his reputation as a prolific fundraiser.
The senator from South Carolina hauled in $2 million in fundraising roughly 24 hours after launching his 2024 presidential campaign, Fox News confirmed on Tuesday evening.
On Monday Scott, a rising star in the GOP and the only Black Republican in the Senate, became the latest contender to officially jump into the burgeoning race for his party's presidential nomination. The senator formally declared his candidacy at Charleston Southern University – his alma mater – in his hometown of North Charleston, South Carolina.
WHAT TIM SCOTT SAID AS HE LAUNCHED HIS GOP PRESIDENTIAL CAMPAIGN
"Joe Biden and the radical left are attacking every rung of the ladder that helped me climb," Scott charged in a speech in front of more than 2,000 friends, family, and supporters. "And that is why I am announcing today that I am running for President of the United States of America."
Scott spent much of his address spotlighting his positive, optimistic, and uplifting conservative message.
SCOTT TAKES ON 'RADICAL LEFT' IN HIS FIRST TV SPOTS AS A PRESIDENTIAL CANDIDATE
The senator, standing just a few miles from where he grew up, highlighted that "we live in the land where it is possible for a kid raised in poverty by a single mother in a small apartment to one day serve in the People's House and maybe even the White House."
Pointing to the one-day fundraising haul, Scott campaign communications director Nathan Brand told Fox News that "the outpouring of support from Republicans across the country following Tim Scott's major announcement shows Americans are ready for an optimistic message grounded in conservative principles."
Scott is known as one of the top fundraisers on Capitol Hill. He brought in over $41 million last cycle as he cruised to re-election in the Senate. His haul was the second most of any Republican senator running for re-election in the 2022 cycle.
WHO'S IN AND WHO'S ON THE SIDELINES — YOUR GUIDE TO THE 2024 GOP PRESIDENTIAL NOMINATION RACE
The senator carried much of those funds over to the 2024 cycle. He had roughly $22 million in his campaign coffers at the end of March, which is being transferred to his presidential campaign. Scott's cash-on-hand will give him a leg up over many of his rivals for the GOP nomination, other than former President Donald Trump and Florida Gov. Ron DeSantis.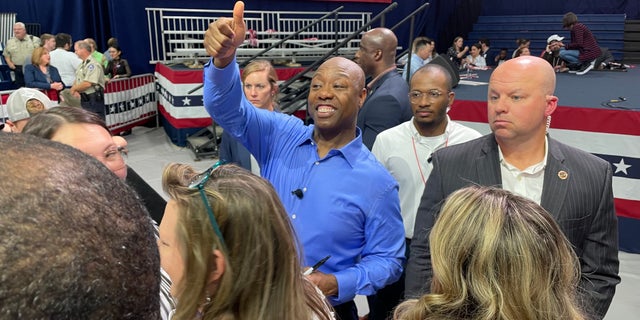 Scott campaigns Wednesday and Thursday in Iowa and New Hampshire, the two states that kick off the GOP presidential nominating calendar. But before he headed out Scott huddled Tuesday in his home state with his finance team and top donors and bundlers.
CLICK HERE TO GET THE FOX NEWS APP
Michael "Mikee" Johnson, a South Carolina-based business leader and CEO of U.S. Brick who's serving as Scott's national finance co-chair, told Fox News earlier on Tuesday that "we have had a great morning! Amazing people coming and going, both in-person and virtually."
Scott's already spending his campaign cash. The senator on Tuesday starting running ads on TV in Iowa and New Hampshire, which are the first spots in a $6 million ad blitz into the summer.