America
Seattle's first carbon-positive hotel coming to Pioneer Square in 2024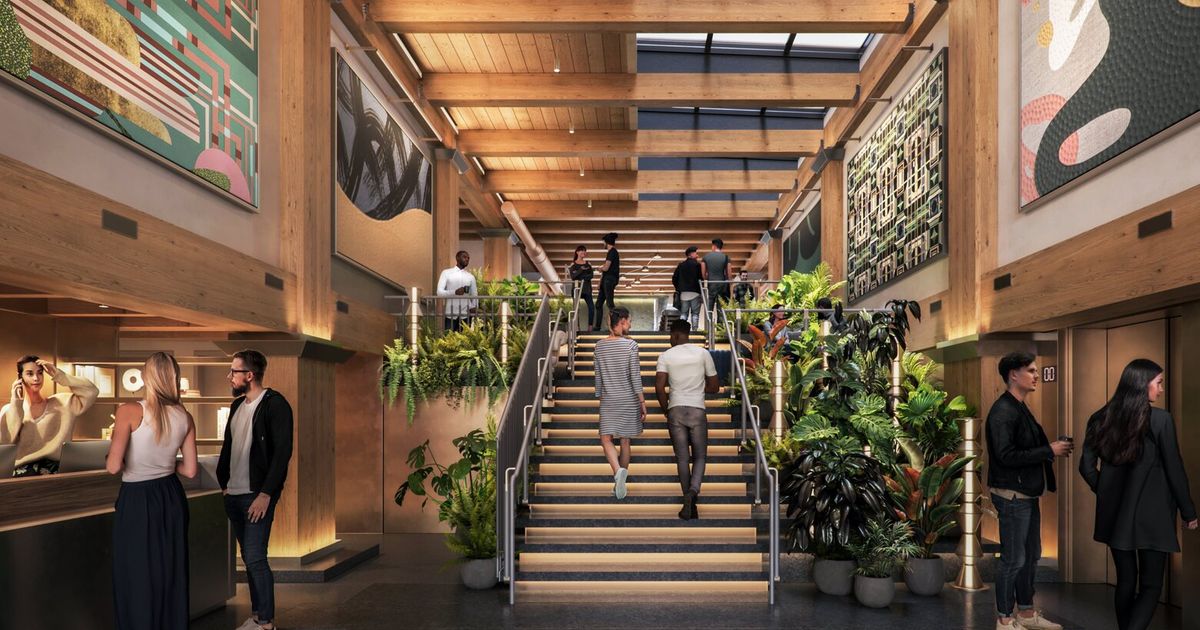 Seattle's first carbon-positive hotel is coming to Pioneer Square next summer. Real estate developer Urban Villages plans to open Hotel Westland at 100 King St. inside a 1907 building that will be reimagined as a 120-room hotel with a restaurant, coffee bar, meeting spaces, a penthouse suite for events and an open-air rooftop bar, Pioneer Square's first.
The environmentally conscious hotel is the second of its kind in the United States, according to its developer. Urban Villages also developed Populus, xpected to open in Denver next summer. Westland is the developer's third installment in its RailSpur complex, a carbon-positive – "micro-district" that includes offices at 419 Occidental Avenue and mixed retail-residential spaces at 115 S. Jackson Street, which is home to Heard Coffee, Hoot Beerdega and Cassette Club cycling shop and cafe, and taqueria Tacolisto. The connecting alleyways will be filled year-round with art, music, and culinary programming, according to Urban Villages representatives. The complex is named for the industrial railways that once ran through the area.
"The goal here is to have as many activities as we possibly can so it's really activated 18 hours a day, 365 days a year," Grant McCargo, Urban Villages CEO and founder, said at a press event on Wednesday.
The path to positive
Going beyond carbon-neutral to carbon-positive calls for an evolving strategy covering the embodied carbon footprint of the building and construction, and the operational footprint once the hotel opens. 
Urban Villages representatives claimed that by revitalizing an existing structure instead of building a new one, the hotel reduces its structure-related carbon footprint by 36% – the equivalent of driving 2.2 million miles or burning 492 tons of coal, according to a press release from the company. In doing so, it hopes to help preserve Pioneer Square's history while lightening its climate impact.
In addition to reusing materials, employing energy efficiencies, procuring renewable energy and pursuing gold LEED certification for sustainable building standards, the development group plans to partner with several off-site regional ecologically-focused groups to remove carbon in its daily operations, said Urban Villages President Jon Buerge, improving the impact the building and project have on the environment. 
Developers opted out of building a parking garage to reduce carbon emissions from cars, and the hotel operations will be streamlined from the waste stream to the selection of products and services, according to Urban Villages. Architects also added thermal insulation and custom-insulated interior windows to increase energy efficiency while also enhancing the natural light.
"We're still exploring these partnerships, looking at a variety of forestry-, soil-, and ocean-based initiatives and are excited to share more details as construction on the hotel progresses. Calculating and sequestering the carbon that the hotel emits when open … will be a constant process that continues to evolve with each guest stay," Buerge said.
Heather Trim, executive director of environmental advocacy group Zero Waste Washington said while she prefers to see systems focus on carbon reductions on-site rather than using off-site offsets, "Overall we applaud their leadership in going in the direction of working to create a carbon-positive operation. And we look forward to seeing how they do their operations in a carbon-positive and zero-waste way."
Plans for Pioneer Square
Why open a new hotel in Pioneer Square? There are only a handful of hotels in the neighborhood, although they may be on the upswing. Westland is the second hotel to join the neighborhood in as many years. Dutch lifestyle hotel group CitizenM, for example, opened a Pioneer Square outpost last year. 
The Westland developers said they see a winning combination of the neighborhood's transit accessibility, rich history and architectural context – a postcard-worthy backdrop – all set within minutes of Pike Place Market, Lumen Field and T-Mobile Park.
"Our business is really going into historical neighborhoods where we can do not just one building but help evolve a whole neighborhood," saidMcCargo. "[I]t's going to hopefully jumpstart another round of revitalization for this neighborhood."
"Urban Villages has actually had our eye on the Pioneer Square neighborhood for over a decade," says Buerge. "We fell in love with the historic buildings and wanted to find a way to preserve that deep-rooted history, while creating a place that's modern and appealing for today."
Developers hope RailSpur will draw both residents and visitors to enjoy Pioneer Square's unique attractions. 
And, while the hospitality industry was hit hard by the pandemic, people are steadily returning to downtown. Last monthLast month hotel demand was at 86% of 2019 numbers, and 2022 saw twice as many visitors – 9.4 million – come to downtown than in 2020, according to data from the Downtown Seattle Association.
Neighborhood advocates are optimistic about the influx of new businesses.
"The future for Pioneer Square looks bright," said Lisa Howard, executive director for the Alliance for Pioneer Square. "Pioneer Square will continue to grow as a destination for those coming from near and far, as the neighborhood is poised to see millions of new visitors in the coming years."
Nearly everything old is new
The Westland building, previously known as the Tempco Quilters Building and the Hambaca Building started its life as a warehouse, built when fortunes were soaring after the Gold Rush, according to the Seattle Department of Neighborhoods. Commissioned by businessman Albert Hambach, the building was designed by Charles Saunder and George Lawton, who helped supervise the construction of the nearby Alaska Building, now the Courtyard by Marriott.
The blocky, six-floor brick rectangle is leavened by two vertical bays and is typical of warehouses of the time, the neighborhoods department noted, outlined by a strong "'base', 'middle', and prominent cornice."
The new design, conceived in collaboration with the Miller Hull Partnership architectural firm, retains much of the building's original character, including many of the single-paned windows and the brick exterior while seismically reinforcing the structure for earthquake-readiness. 
Chicago-based interior design firm Curioso wove blues and greens inspired by the Northwest's woods and water balanced by warm textiles, patinated metals, natural brick and exposed timber. Local artisans' work highlight Seattle's history of craftsmanship.
In the design, a central staircase curves up from the verdant lobby to the hotel restaurant and glass-enclosed patio. 
"Each of the guest rooms will be well-appointed," company representatives said, "affording a comfortable yet elevated urban escape amidst bustling downtown Seattle with thoughtful touches and a design that reflects the history of the neighborhood and the beauty of the Pacific Northwest.