World
Sudan S: Fresh fighting threatens Sudan's week-long truce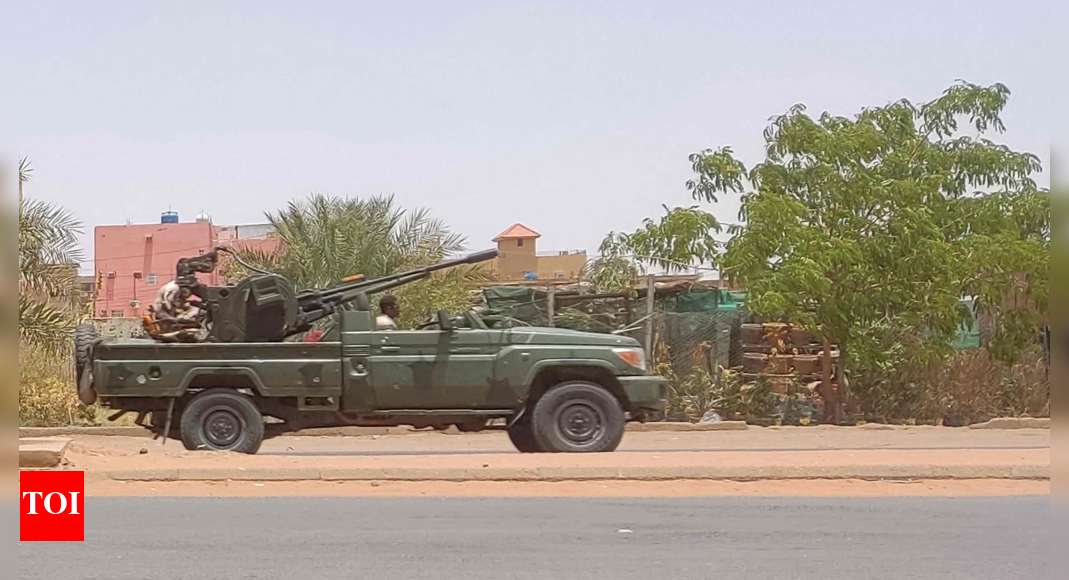 DUBAI: Sporadic clashes between
Sudan
's army and a powerful paramilitary force spilled over into Thursday, puncturing the relative calm in the capital
Khartoum
and raising the risk that a week-long truce would crumble.
The ceasefire, monitored by Saudi Arabia and the United States, was reached after five weeks of warfare in Khartoum and outbursts of violence in other parts of Sudan, including the western region of Darfur.
The fighting – centred on a power struggle between Sudan's army and the paramilitary Rapid Support Forces (RSF) – has worsened a humanitarian crisis, forced more than 1.3 million people to flee and threatened to destabilise a fragile region.
The army, led by career officer General Abdel Fattah al-Burhan, relies on air power while the RSF, commanded by former militia leader General Mohamed Hamdan Dagalo, widely known as Hemedti, has spread out and taken cover in Khartoum's streets.
It is unclear whether either side has gained an edge in recent weeks. Clashes between the rival factions broke out again on Wednesday in Khartoum and other cities, residents said.
Militia were also besieging Zalingei, capital of Central Darfur State, the U.N. refugee agency's Darfur coordinator Toby Harward said. Telecommunications have been cut off and gangs roaming the city on motorcylces have attacked hospitals, government and aid offices, banks and homes, he added.
A similar situation has been reported in the West Darfur State capital El Geneina, which has also been subject to a telecommunication blackout for several days after hundreds were killed in militia attacks.
FAILED CEASEFIRE
The ceasefire was agreed to on Saturday following talks in Jeddah mediated by Saudi Arabia and the United States. Previous ceasefire announcements have failed to stop the fighting. In statements late on Wednesday, the army and RSF accused each other of violating the agreement.
The RSF said it was forced to defend itself against land, artillery and air strikes by the army. The army in turn accused the RSF of attacks on the country's mint, army airbases and several cities west of the capital.
Sudan's armed forces issued a statement accusing the RSF of breaching the ceasefire. They claimed to have repelled the attacks and destroyed six enemy vehicles.
Reuters could not confirm the battlefield accounts.
World Food Programme Executive-Director Cindy
McCain
said people were fleeing Khartoum and heading west towards Darfur, where a conflict erupted between rebels and government-backed militias around 2003-2004 and has simmered ever since.
Despite repeated peace deals, clashes in Darfur have been rising in the past two years and have surged since the fighting broke out in Khartoum.
"We do need funding, we need private sector funding. In the meantime, the conflict has to stop and we need help from the world community to make just that happen otherwise we are going to lose another generation of Sudanese," McCain told journalists in Berlin.
The conflict erupted in Khartoum in mid-April as plans for an internationally backed political transition toward elections under a civilian government were set to be finalised.
U.N. humanitarian agency OCHA said agencies were ready to deliver aid to more than 4 million people, but bureaucratic blockages and security issues were hampering distribution.
Out of the 168 trucks ready to deliver assistance, just a small number were on the move from Port Sudan to Gadaref, Kassala and Al Gezira, an aid official told Reuters.
Many residents are struggling to survive as they face prolonged water and power cuts, a collapse of health services and widespread lawlessness and looting.
More than 1 million people have been displaced within Sudan and 319,000 have fled to neighbouring countries, some of which are similarly impoverished and have a history of internal conflict, according to the International Organization for Migration.
Many have crossed into Chad and Egypt in the last few days, said Filippo Grandi, head of the U.N. refugee agency.