Autocar
Tata Altroz CNG price, Punch, Tiago, Nexon launch details, features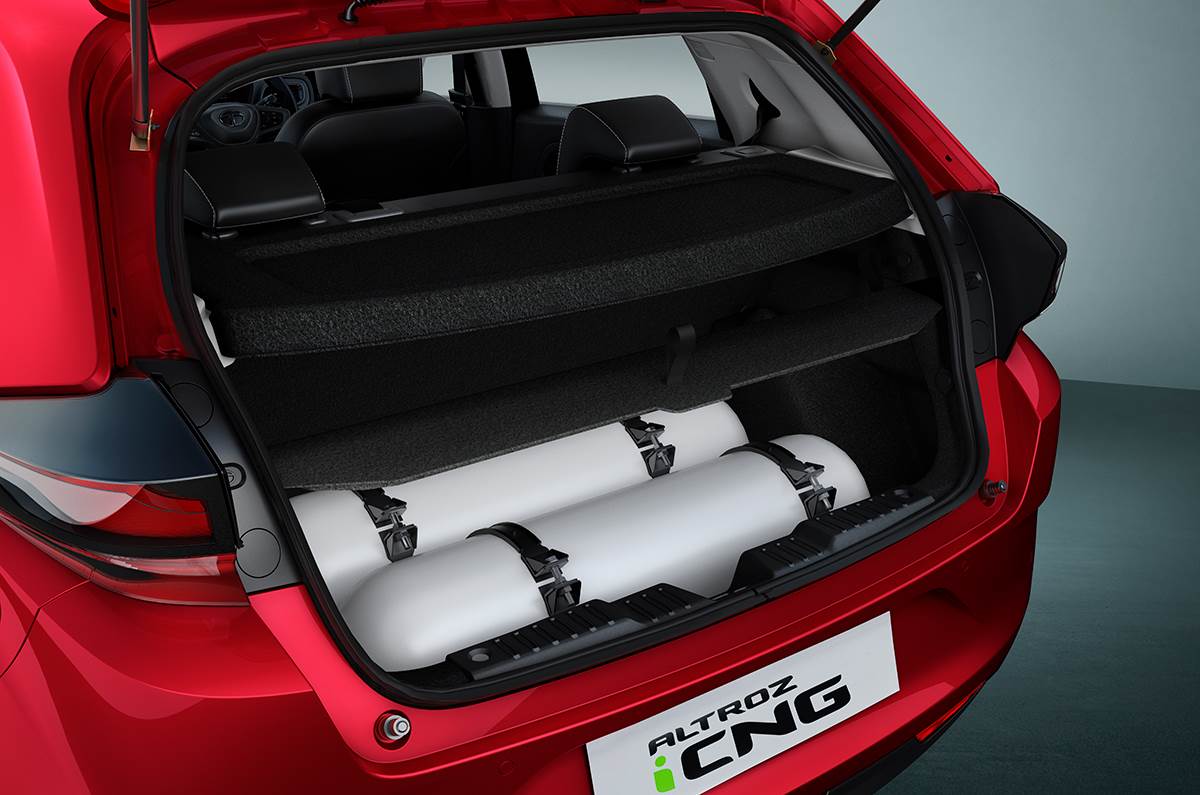 Tata Motors, which already has an upper hand on the EV segment in India, hopes to replicate that success with CNG-powered mass market passenger vehicles. Tata is betting on its dual cylinder CNG technology contributing to 30 percent of the segment's sales.
Tata Motors sells 12,000 CNG passenger vehicles a month
Altroz CNG debuts twin cylinder tech
CNG car, SUV market in India on the rise
Four CNG-powered Tata car, SUVs in the portfolio soon
With a CNG portfolio of four vehicles – Tiago, Tigor, Altroz and the yet to be launched Punch CNG – Tata Motors expects to sell about 1.5 lakh units per annum within the next couple of years. The company, thereby, hopes all three powertrains – petrol, CNG and electric – have an equal share in sales, with flex fuels contributing a small percent by the end of the decade.
Altroz CNG debuts twin-cylinder tech
Tata Motors has launched the new Altroz with a unique twin-cylinder CNG tank that is packaged in a way that it does not compromise boot space – a key criteria for car buyers. With the Altroz CNG, the company claims to have addressed all major issues of performance, features and space that are generally a concern for CNG car buyers. 
CNG vehicle segment booming in India
Shailesh Chandra, MD of Tata Motors Passenger Vehicles Limited told our sister publication Autocar Professional "Our multi-train powertrain strategy has helped us grow faster than the market and it will continue to drive sales this year too. The CNG penetration is expected to move up from 10 percent at present to 25 percent by the end of the decade. We would like to move in line with that or even have a higher share," he said.
The CNG segment has taken off in the last few years with almost 17 models available in the market currently. The infrastructural improvement – increase in CNG filling stations – has also helped this cause. At present about 30,000-35,000 CNG vehicles are sold every month, and surprisingly, private car buyers account for 80 percent of the sales. The share of fleet buyers has come down significantly in the last few years, with the improvement of technology and expansion of the distribution network.
The increase in prices of CNG did slow down sales, however, post the Kirit Committee's recommendation to revise the prices, sales gained traction again. Chandra says demand continues for its brands, and it will be Tata Motors' endeavour to outpace the market, which is estimated to grow by 5-7 percent.
According to people in the know, Tata Motors is working on a production plan of 6-6.2 lakh units for FY24, which is a growth of over 10 percent. Tata currently sells around 12,000 CNG vehicles per month.
Also see:
Tata Altroz CNG launched at Rs 7.55 lakh