Politics
DeSantis argues attacks by Trump show 'he understands I'm the candidate who can beat him'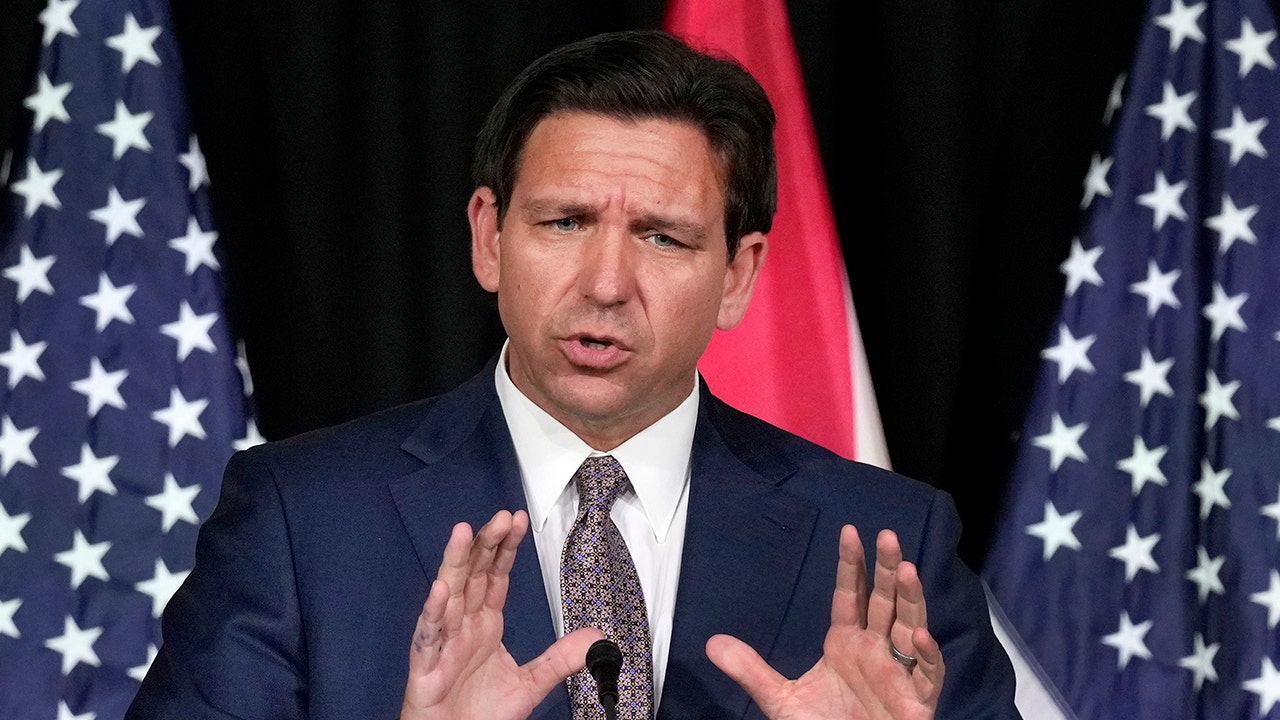 He has been taking repeated hits from former President Trump and his allies for over six months, but now that he has joined Trump in the race for the 2024 Republican presidential nomination, Florida Gov. Ron DeSantis appears to be punching back.
As he called in on Thursday morning to popular talk radio programs in the early voting Republican nominating states of Iowa, New Hampshire, and South Carolina hours after formally declaring his candidacy for president in a campaign launch video first reported by Fox News, DeSantis was asked about the constant barrage of incoming fire he is taking from Trump.
"I think a lot of what he's doing is showing everyone that he understands that I've got a good chance to beat him, because he doesn't criticize anybody else now. It's only me," DeSantis argued in an interview with host Jack Heath on "The Pulse of New Hampshire." "They wouldn't do that if they didn't think that I had chance because I think they realize that I am offering folks a record of achievement that's second to none."
The attacks by Trump and his allies amplified Wednesday evening following an extremely rocky rollout by DeSantis in an appearance on Twitter with business magnate and Twitter owner Elon Musk, when the Florida governor kicked off his 2024 campaign. 
FIRST ON FOX: DESANTIS FORMALLY ANNOUNCES PRESIDENTIAL CAMPAIGN WITH LAUNCH VIDEO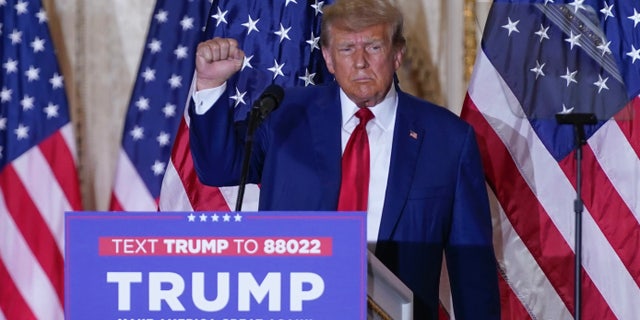 While DeSantis' campaign quickly described the severe glitches as a "break the internet" moment, Trump and his allies argued the episode was an embarrassing flop. Among other things, the former president – on his Truth Social outlet on social media – put up a video of a rocket crashing and exploding with the caption "Ron! 2024."
Additionally, the Trump aligned super PAC MAGA Inc. charged that "Ron DeSantis' failed shadow campaign and botched campaign launch are only the most recent examples of a career politician who is clearly not ready for the moment."
WHO'S IN AND WHO'S ON THE SIDELINES — YOUR GUIDE TO THE 2024 GOP PRESIDENTIAL NOMINATION RACE
However, the DeSantis campaign touted that they had a fruitful night – showcasing that they hauled in $1 million in online fundraising in the first hour after the governor declared his candidacy.
DeSantis will be in Miami on Thursday, where he will huddle with top donors and bundlers.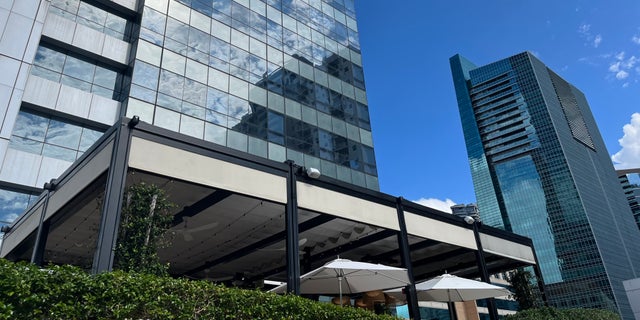 "I think there are a bunch of donors waiting to get off the sidelines, waiting for DeSantis to enter," Dan Eberhart, an oil drilling chief executive officer and a prominent Republican donor and bundler, told Fox News.
Eberhart, who contributed $100,000 and raised half a million dollars for former President Trump's 2020 re-election campaign but is now a DeSantis supporter, predicted "I expect there to be a coalescing of conservative donors around Ron DeSantis."
A source at the Miami fundraising meeting told Fox News that attendees were talking about the Twitter glitch but said it was perceived among DeSantis financial supporters that "there was so much interest that it broke the system….it's not the governor's fault." The mission of the meeting in Miami is to bring in a fundraising haul over the coming days that the DeSantis campaign can showcase next week as a sign of strength.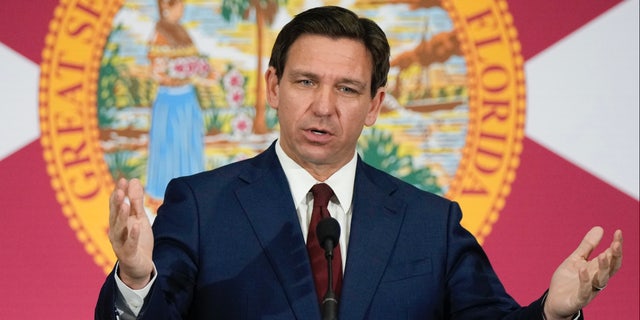 DeSantis set a gubernatorial fundraising record in the 2022 cycle as he won a convincing re-election victory and had $110 million cash on hand in his fundraising committees at the start of the spring. 
Much of that money is being transferred to Never Back Down, a super PAC backing the Florida governor's White House bid that is staffing up a ground operation in key electoral states across the country and pledges to spend up to $200 million on behalf of DeSantis.
FOX EXCLUSIVE: AS DESANTIS ENTERS THE RACE, HALEY ARGUES HE'S 'COPYING TRUMP'
Trump, who in November launched his third straight White House campaign, for a couple of months has been the clear front-runner in the GOP presidential nomination polls. National polls released this week by Fox News and Quinnipiac University both indicated Trump topping DeSantis by over 30 percentage points – and new national surveys by CNN and Marquette Law School also suggesting the former president holding large double-digit leads over the Florida governor.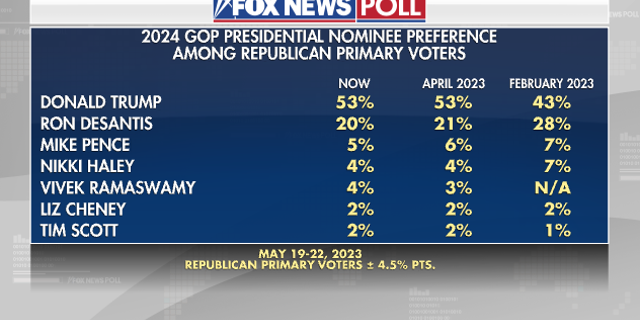 While DeSantis remains well ahead of the rest of the field of actual and likely Republican contenders – who stand in the mid to low single digits in the latest surveys – his poll numbers in relation to Trump have slipped from earlier this year.
"I would be shocked if the former president wasn't leading," DeSantis said of the polls as he took questions from reporters during a Wednesday night conference all. "He has 100% name ID. He's one of the most famous people in the world."
The governor, who won an overwhelming re-election last November in a state that was once a top general election battleground, noted that "I won my last election by about 20 points. None of these media polls had me winning by 20 points."
DeSantis touted the scores of endorsements he landed last week – even before he announced his candidacy – from state lawmakers in both Iowa and New Hampshire. But he also pointed to the calendar and noted that this "thing is just starting. I don't think that the average Republican primary voters is obsessing over this yet."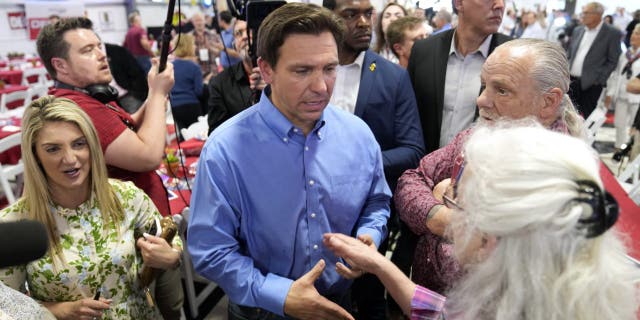 The governor, on the conference all, also painted policy contrasts with Trump.
"He added almost $8 trillion to the debt in a four-year period of time. I'm happy to be on the conservative side of that debate," DeSantis told reporters. 
And he argued that Trump "endorsed and tried to ram through an 'amnesty'" bill during his presidency.
The DeSantis campaign announced on Thursday morning that the governor will hold "campaign kick-off" events next week in the three states that lead off the GOP presidential nominating calendar, the first in-person campaigning since he declared his candidacy for the White House on Wednesday.
CLICK HERE TO GET THE FOX NEWS APP
DeSantis will start with a May 30 event in Des Moines, Iowa, followed by a rapid series of events in four other Iowa cities on May 31. He will then travel to New Hampshire and South Carolina on June 1 and 2, according to a campaign announcement.
DeSantis stopped twice in both Iowa and New Hampshire and once in South Carolina the past couple of months, as he moved closer to launching a presidential campaign.