Politics
First on Fox: Ron DeSantis officially launches 2024 presidential campaign with 'Great American Comeback' video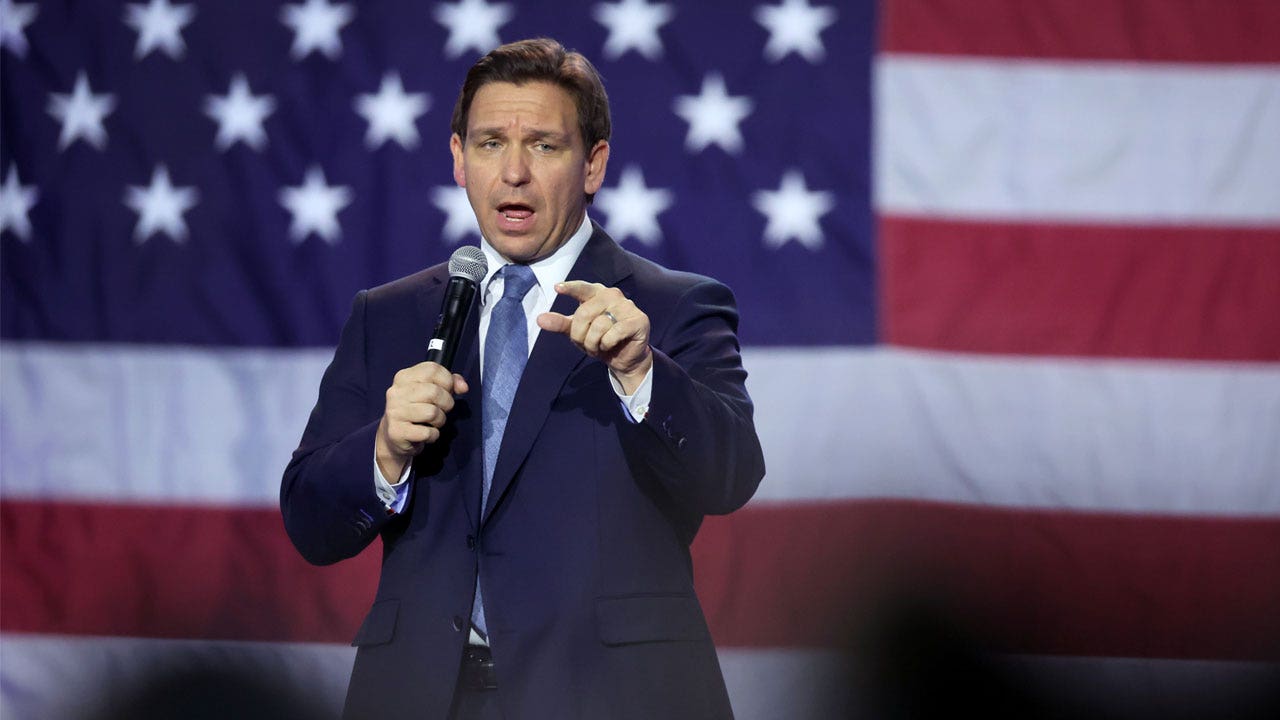 EXCLUSIVE – Saying that he's "running for president to lead our great American comeback," Republican Gov. Ron DeSantis of Florida formally launched his White House campaign in a video released by his political team.
"Our border is a disaster. Crime infests our cities. The federal government makes it harder for families to make ends meet. And the president flounders," DeSantis charges in the video, which was shared first with Fox News on Wednesday.
The governor argues that "decline is a choice. Success is attainable. And freedom is worth fighting for. Righting the ship requires restoring sanity to our society, normalcy to our communities, and integrity to our institutions. Truth must be our foundation — and common sense can no longer be an uncommon virtue. In Florida, we proved it can be done."
After months of buildup and speculation, the DeSantis campaign released the launch video in conjunction with the Florida governor's appearance on Twitter, where he was expected to also formally announce his 2024 candidacy in a 6pm ET interview with business magnate and Twitter owner Elon Musk.
WHO'S IN AND WHO'S ON THE SIDELINES — YOUR GUIDE TO THE 2024 GOP PRESIDENTIAL NOMINATION RACE
In the video, DeSantis points to his record in Florida, emphasizing that "we chose facts over fear, education over indoctrination, law and order over rioting and disorder. We held the line when freedom hung in the balance. We showed that we can — and must — revitalize America. We need the courage to lead and the strength to win."
He's seen in the video walking up to and speaking from a stage draped with a large American flag.
The video's release comes a couple of hours after DeSantis filed paperwork with the Federal Election Commission, which officially triggers his presidential campaign.
The move by DeSantis coincides with his meeting this week with top financial backers. The filing with the FEC allows DeSantis to directly solicit contributions from top donors and bundlers he's huddling with starting on Thursday in Miami, Florida.
Even though he's been on the 2024 sidelines, DeSantis for months has been in the top tier of Republican nomination contenders, behind former President Donald Trump and ahead of the rest of the field of actual and likely candidates in nearly every GOP primary poll.
WHAT THE LATEST FOX NEWS POLL SHOWS IN THE 2024 GOP PRESIDENTIAL NOMINATION RACE
Three new national surveys released Wednesday by Fox News, CNN, and Quinnipiac University continued to indicate Trump holding a large double-digit lead over DeSantis, with the rest of the contenders far behind in single digits.
But DeSantis' poll numbers – in relation to Trump – have slipped from earlier this year.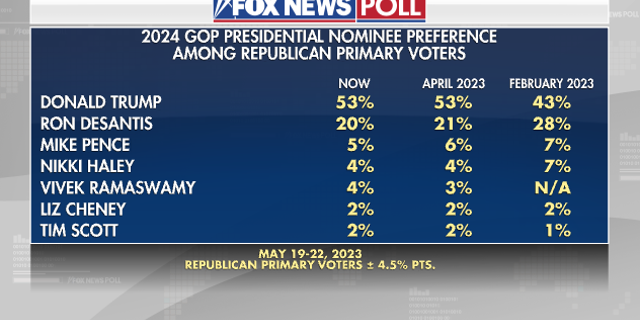 Still, DeSantis enters the 2024 race in a relatively strong position. He's sitting on a massive war chest he built during last year's gubernatorial reelection campaign. DeSantis set a gubernatorial fundraising record in the 2022 cycle and had $110 million cash on hand in his fundraising committees at the start of the spring. 
Much of that money could likely be transferred to Never Back Down, a super PAC backing the Florida governor's White House bid that is staffing up a ground operation in key electoral states across the country and pledges to spend up to $200 million on behalf of DeSantis.
FOX EXCLUSIVE: AS DESANTIS ENTERS THE RACE, HALEY ARGUES HE'S 'COPYING TRUMP'
Because of his powerful position, DeSantis has a large target on his back. And Trump, who's known for pummeling his political rivals, didn't wait for the governor to declare his candidacy.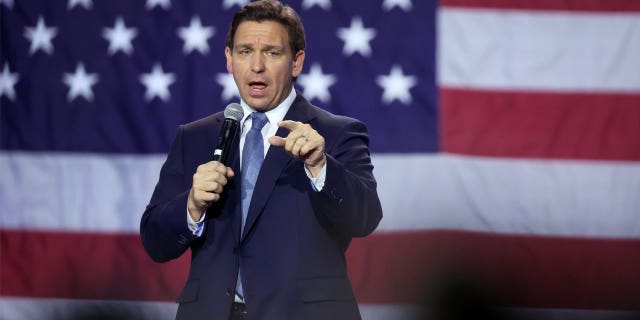 Trump started targeting DeSantis last autumn, nicknaming him "Ron DeSanctimonious." And early this year, the former president charged that the governor was a "RINO GLOBALIST" and began referring to him as "DeSanctus."
Pointing to his support in boosting DeSantis in his 2018 gubernatorial run, Trump argued that if the governor joined him in the 2024 Republican nomination race, "I do think it would be a great act of disloyalty because, you know, I got him in. He had no chance. His political life was over."
And after the news broke Tuesday that DeSantis would launch his presidential campaign on Wednesday, a top Trump adviser told Fox News that "announcing on Twitter is perfect for Ron DeSantis. This way he doesn't have to interact with people and the media can't ask him any questions."
CLICK HERE FOR THE LATEST FOX NEWS REPORTING, ANALYSIS AND OPINION ON RON DESANTIS
DeSantis, who at age 44 is more than three decades younger than Trump, did win his first election as governor thanks to a major assist from the then-president. But he became a force of his own as he's built a political brand that stretches from coast to coast.
The governor saw his popularity soar among conservatives across the country the past three years, courtesy of his forceful pushback against coronavirus pandemic restrictions and his aggressive actions as a culture warrior going after media, corporations and school unions.
DeSantis routinely dismissed talk of a 2024 White House race last year as he focused on his gubernatorial reelection. But he began dropping hints of a possible presidential bid, starting with his reelection victory speech in November after he cruised to an historic 19-point win in Florida, a onetime battleground state. And he reiterated in speeches his pledge that "we've got a lot more to do, and I have only begun to fight."
DeSantis, who served in the Navy Judge Advocate General's (JAG) Corps before being elected to Congress, has showcased that his wins as governor have "transformed" Florida from a top general election battleground "into the nation's leading red state" and that his policy victories in Florida can serve as a roadmap for the entire nation.
The governor racked up a slew of conservative policy victories – including a controversial six-week abortion law, tougher immigration laws, restrictions on gender and diversity instruction in schools, and green-lighting the ability to carry a concealed weapon without a permit – during Florida's just-concluded legislative session, courtesy of a GOP super majority in Tallahassee.
And one of thoes legislative victories directly impacted the governor.
DeSantis announced his candidacy on the day he signed into law a bill in Florida that alters the state's "Resign to Run" rule. The governor will now no longer need to tender a resignation from the office of the Governor to legally run in Florida for president.
DeSantis has traveled across the country in recent months, highlighting his "Florida blueprint" and promoting his newly released book, "The Courage to Be Free."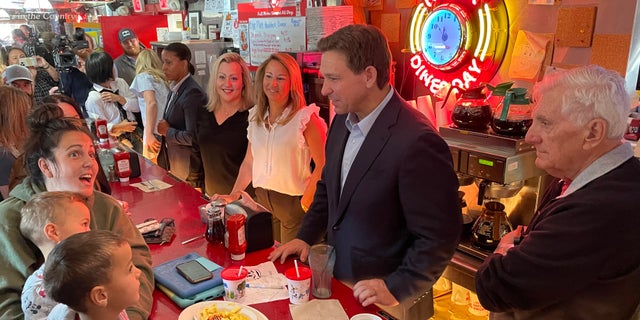 Writing a book is a rite of passage for many potential and actual presidential candidates. And his travels have taken him multiple times to Iowa, New Hampshire and South Carolina, the first three states to vote in the GOP presidential nominating calendar.
As DeSantis launched his campaign, the Democratic National Committee took aim at the Florida governor. 
"Ron DeSantis has pushed an extreme MAGA agenda focused on ripping Floridians' freedoms away and now he wants to take that agenda nationwide," DNC chair Jaime Harrison charged in a statement.
DeSantis joins a field that besides Trump also includes Nikki Haley, the former ambassador to the United Nations and former two-term South Carolina governor; Sen. Tim Scott of South Carolina, a rising star in the GOP and fierce fundraiser who just declared his candidacy; and former two-term Arkansas Gov. Asa Hutchinson. Also vying for the nomination are multimillionaire entrepreneur, best-selling author and conservative commentator Vivek Ramaswamy, Michigan businessman and 2022 gubernatorial candidate Perry Johnson, and conservative radio talk show host and former California gubernatorial candidate Larry Elder.
CLICK HERE TO GET THE FOX NEWS APP
The field will likely also include former Vice President Mike Pence, who's expected to launch a campaign in the coming weeks.
Govs. Doug Burgum of North Dakota and Chris Sununu of New Hampshire are seriously mulling presidential bids, with announcements likely in the coming weeks, and former New Jersey Gov. Chris Christie is expected to announce in the coming days whether he'll launch a second GOP presidential campaign. Former Reps. Will Hurd of Texas and Mike Rogers of Michigan may also launch 2024 campaigns. 
And Virginia Gov. Glenn Youngkin and former National Security Adviser John Bolton are also considered potential contenders.