America
Kurt Cobain's smashed guitar from Nirvana's 'Nevermind' era fetches nearly $600,000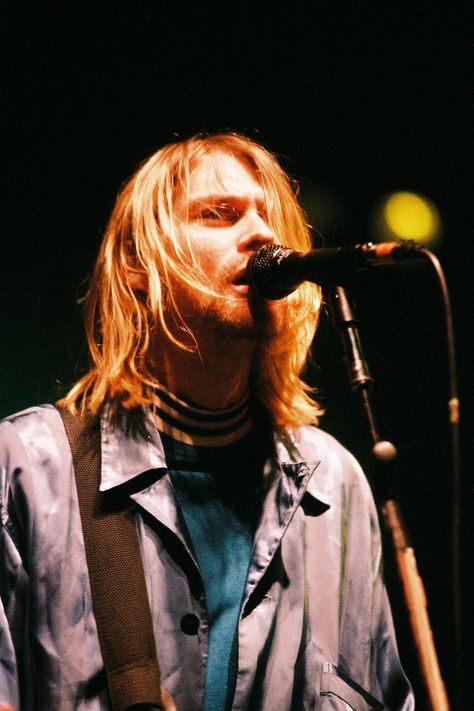 A Fender Stratocaster guitar smashed by Nirvana frontman Kurt Cobain has sold for nearly $600,000 at auction — more than 10 times what it was expected to go for.
The reconstructed left-handed guitar — covered in chips, scratches and the original three bandmembers' inscriptions — garnered 31 bids and fetched $596,000 at auction Saturday, according to Julien's Auctions. The iconic instrument, a headlining piece of a three-day music icons auction, was originally valued at $60,000 to $80,000.
A spokesperson for the auction house on Monday told The Times that the buyer wishes to remain anonymous "but he is a Nirvana fan in the U.S. and works in finance."
Fender's signature electric guitars and basses are still made in California
Cobain, who fatally shot himself in 1994, was embraced by much of his generation with an almost John Lennon-ish fervor, writing about hypocrisy and apathy "with an anxious urgency that was widely dismissed by older rock fans," The Times' former music critic Robert Hilburn wrote in 2007. The grunge pioneer performed with an intensity that often led to the smashing of instruments. He is said to have destroyed this black-and-white MIJ Fender while recording Nirvana's seminal 1991 album, "Nevermind."
"Since this guitar has Cobain's modifications for live performance and signs of wear that would indicate prolonged use, it is likely he did not simply smash and discard this particular instrument, but smashed and repaired it to use again," the auction house said.
Although it was reassembled, the guitar is not playable.
The Stratocaster was signed in silver marker by the revered rocker as well as drummer Dave Grohl and bassist Krist Novoselic. It bears additional inscriptions intended for the Stratocaster's original recipient, Mark Lanegan, the singer-songwriter who led Screaming Trees and was Cobain's close friend and collaborator. (Lanegan died at 57 last year.)
"Hell-o Mark! Love, Your Pal, Kurdt Kobain / Washed up rockstar," Cobain wrote on the guitar, which is housed in a black hard case with "Abort Christ" written on it and includes a stage-used white Ernie Ball guitar strap fitted to the instrument's strap-lock system.
Cobain gave the guitar to Lanegan during the North American leg of the "Nevermind" tour in 1992, the auction house said. The instrument also comes with a signed letter of provenance from its previous owner, Tony Palmer.
A similar Fender Stratocaster bearing a white bumper sticker that reads "Vandalism: Beautiful as a Rock / in a Cop's Face" has been displayed at the Museum of Pop Culture in Seattle.
Last year, billionaire Jim Irsay spent $4.5 million on Cobain's 1969 Fender Mustang electric guitar from Nirvana's 1991 "Smells Like Teen Spirit" music video. In 2020, Cobain's acoustic Martin D-18E guitar from the band's legendary "MTV Unplugged" performance sold at auction for $6 million.
———