Latest
McCarthy and Biden make headway on debt ceiling negotiations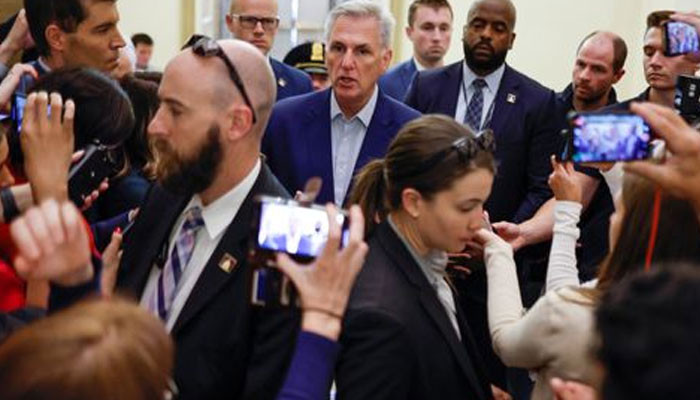 Top Republican lawmaker Kevin McCarthy stated on Saturday that negotiations with Democratic President Joe Biden regarding the US federal government's debt ceiling were showing signs of "progress." This development comes as the nation faces the imminent risk of default in little more than a week.
Time is of the essence, as the Treasury Department recently announced that the government would run out of funds to cover all its bills on June 5 unless Congress takes action. This revised deadline is slightly later but firmer than the previous forecast of default as early as June 1.
However, even if a deal is reached in principle between Biden and House Speaker McCarthy, the process of shepherding the legislation through the divided Congress is likely to take up to a week due to the narrow and acrimonious divisions within.
McCarthy informed reporters, "We do not have a deal… We are not there yet. We did make progress; we worked well into early this morning. And we're back at it now."
Hardline Republicans have issued threats to block any bill that fails to meet their expectations, which include significant spending cuts. On the other side, progressive Democrats have threatened to withhold support for compromises that involve new work requirements for federal anti-poverty programs.
Biden expressed optimism, telling reporters on Friday, "It's very close and I'm optimistic."
With Republicans holding a slim majority of 222-213 in the House and Democrats maintaining a 51-49 Senate majority, passing any agreement between the Democratic president and Republican speaker into law requires navigating a narrow path.
Republicans have aimed to curtail government spending over the next decade in order to slow down the growth of the US debt, which currently equals the annual output of the economy. However, the tentative agreement is expected to fall significantly short of their goal.
The two sides have tentatively agreed to raise the debt ceiling to cover the country's borrowing needs until the November 2024 presidential election. The agreement would include increased spending on the military and veterans' care while capping spending for many discretionary domestic programs.
McCarthy stated that Republicans are also pushing for energy permitting reforms, including easing restrictions on gas and oil drilling.
Even before a deal is reached, some members of McCarthy's restive caucus have voiced objections. Republican Representative Dan Bishop expressed anger at the idea of extending the debt ceiling through the next presidential election, tweeting, "If Speaker's negotiators bring back in substance a clean debt limit increase… one so large that it even protects Biden from the issue in the presidential… it's war."
Sticking points in the negotiations include Republicans rejecting Biden's proposed tax increases and neither side showing a willingness to address the fast-growing health and retirement programs that contribute to the escalating debt.
Failure by Congress to raise the self-imposed debt ceiling before June 5 could trigger a default that would severely impact financial markets and plunge the United States into a deep recession. Credit-rating agencies have placed the United States on review for a possible downgrade, which would raise borrowing costs and undermine its position as the bedrock of the global financial system. A similar standoff in 2011 led to Standard & Poor's downgrading the US debt rating, resulting in market turmoil and higher borrowing costs for the government.