Politics
Tim Scott takes swipe at Trump in official presidential campaign launch: 'Hope' over 'grievance'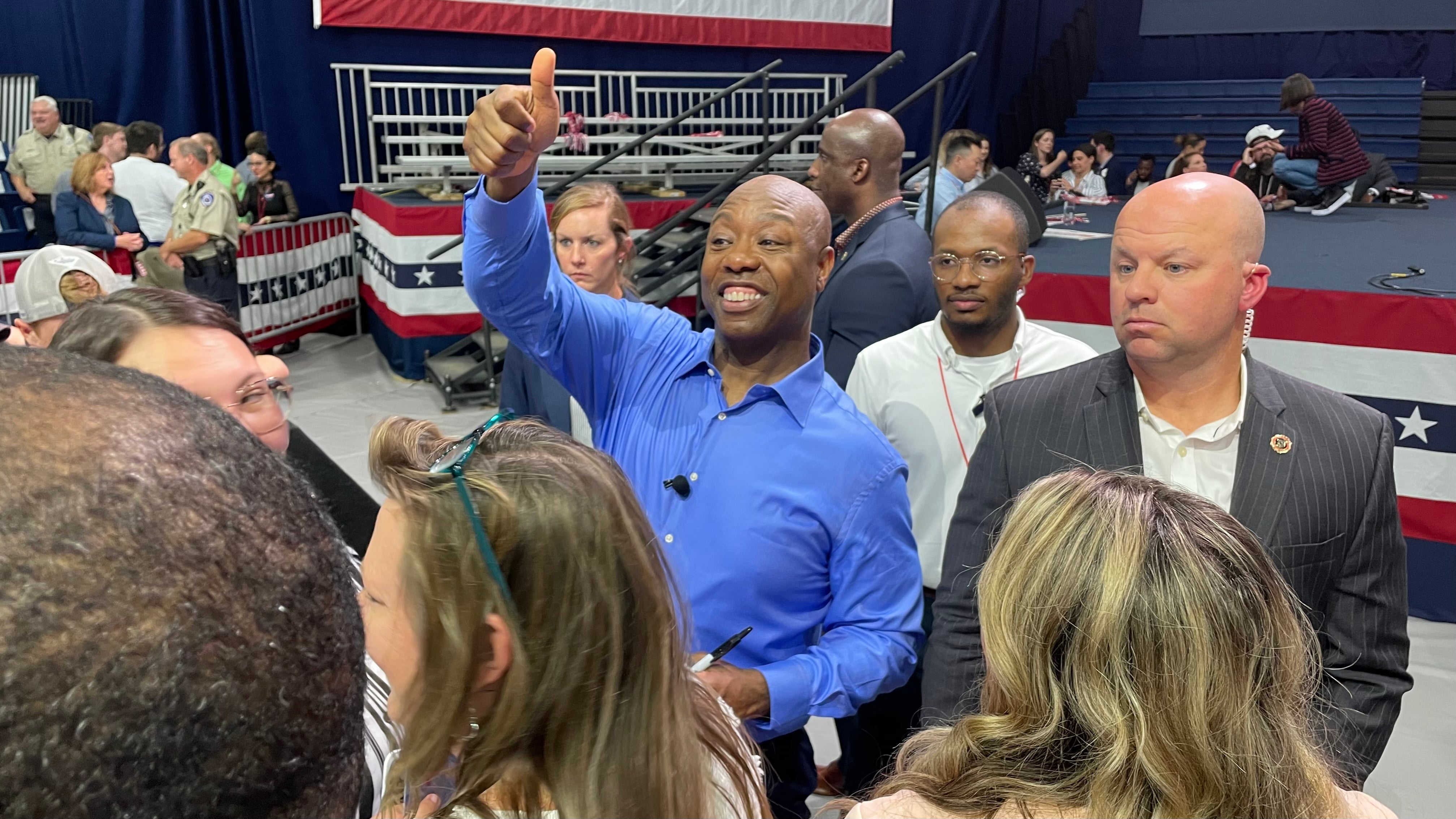 NORTH CHARLESTON, S.C. – As he formally declared his candidacy for president at his alma matter in the town where he grew up, Republican Sen. Tim Scott emphasized that "our party and our nation are standing at a time for choosing."
Scott, a rising star in the GOP and the only Black Republican in the Senate, on Monday became the latest contender to officially jump into the burgeoning race for his party's presidential nomination.
The senator is preaching what he described in an interview with Fox News on the eve of his campaign kick off as an "optimistic, positive message anchored in conservatism."
TIM SCOTT TELLS FOX NEWS GOP VOTERS HAVE 'HUNGER' FOR POSITIVE, CONSERVATIVE MESSAGE
However, the battle to be the 2024 Republican standard-bearer is currently dominated by former President Trump, who is the clear front-runner as he makes his third straight White House run.
Trump has continued to relitigate his 2020 election loss to President Biden as he repeats his unproven claims that his defeat was due to an election "stolen" through "massive voter fraud." Additionally, the former president's listing of his many legal grievances have also become a campaign staple this year.
WHO'S IN AND WHO'S ON THE SIDELINES — YOUR GUIDE TO THE 2024 GOP PRESIDENTIAL NOMINATION RACE
The question Scott faces is whether there's an appetite among Republican presidential primary voters for his optimistic vision.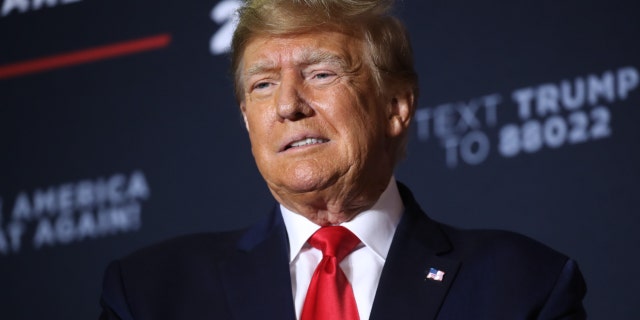 The senator, however, standing in front of over 2,000 family, friends and supporters, asked "victimhood or victory? Grievance or greatness?"
"I choose freedom and hope and opportunity," Scott stressed as he took a gentle swipe at the former president without mentioning his name.
When asked in a Fox News interview if Republican voters are receptive to his positive message, Scott argued "that voters are thrilled to have a conversation about optimism, a conversation about how to move this country forward together."
WHAT TIM SCOTT TOLD FOX NEWS ABOUT REINSTATING TITLE 42
"I'm stunned at the hunger for something positive as long as its anchored in conservatism. As long as you have a backbone," he added.
Scott is the living embodiment of his message.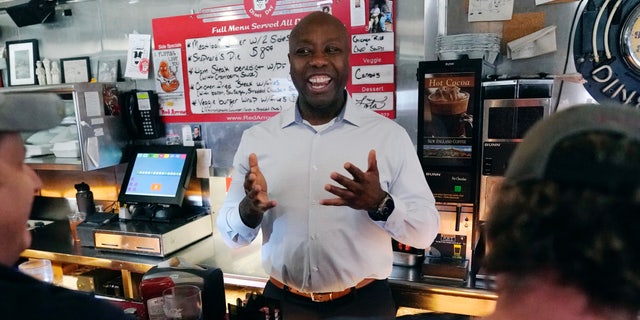 Reflecting on his challenging childhood and pointing to his mother, who was in the audience, Scott recalled that "my momma worked 16-hour days as a nurse's aide — changing bedpans and rolling patients. It was hard work. It was not glamorous."
"But those 16-hour days put food on our table. And kept our lights on. They empowered her to move her boys out of a place filled with anger into a home full of love." Scott said. "My mom's work ethic taught me there is dignity in all work."
Scott, standing just a few miles from where he grew up, highlighted that "we live in the land where it is possible for a kid raised in poverty by a single mother in a small apartment to one day serve in the People's House and maybe even the White House."
Scott used his unique life story to take aim at the Democrats.
"This is the freest and fairest land. Where you and I can go as high as our character, our grit, and our talent will take us. I bear witness to that. I testify to that," he said. "That's why I'm the candidate the far left fears the most."
The senator charged that "I disrupt their narrative. I threaten their control. The truth of my life disproves their lies!"
Scott joins a growing field of GOP White House hopefuls who are challenging Trump.
DEMOCRATS SILENT ON 'UNCLE TIM' SLUR TARGETING SCOTT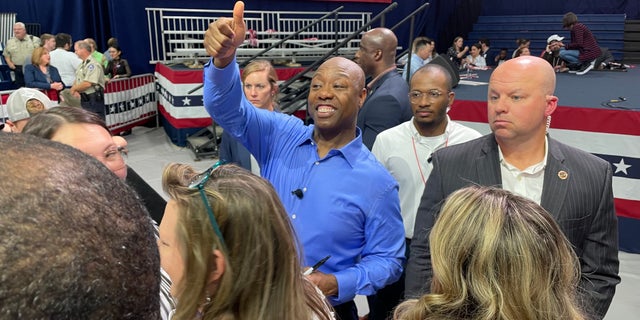 Florida Gov. Ron DeSantis, whose anti-woke crusade has made him popular with conservatives across the country, is expected to officially file paperwork this week with the FEC to launch a presidential campaign, with a formal announcement to follow. DeSantis is second in the Republican primary polls, behind Trump but far ahead of the rest of the field.
That field will also include former Vice President Mike Pence, who is expected to launch a campaign in the coming weeks. 
Scott will also face serious competition from Nikki Haley, the former ambassador to the United Nations and former two-term South Carolina governor who launched a 2024 presidential campaign in February. Haley, who is spending plenty of time on the campaign trail in the early voting states, and Scott share many of the same allies and donors. 
Also in the race are former two-term Arkansas Gov. Asa Hutchinson, multi-millionaire entrepreneur, best-selling author and conservative commentator Vivek Ramaswamy, Michigan businessman and 2022 gubernatorial candidate Perry Johnson, and conservative radio talk show host and former California gubernatorial candidate Larry Elder.
Govs. Doug Burgum of North Dakota and Chris Sununu of New Hampshire are seriously mulling presidential bids, with announcements likely in the coming weeks. Former New Jersey Gov. Chris Christie is expected to announce in the coming days whether he will launch a second GOP presidential campaign.
Scott, who cruised to re-election last November to what he has said will be his final six-year term in the Senate, is expected to court evangelical Christian voters, who play an outsized role in GOP politics in Iowa and his home state.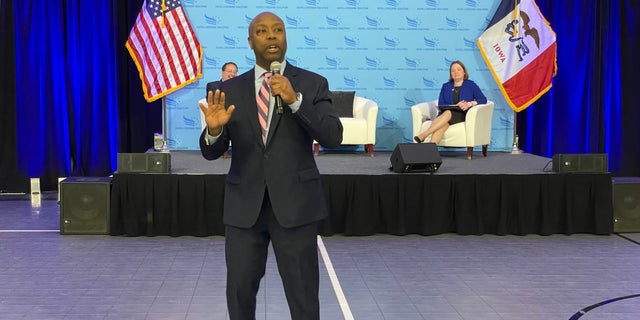 Another question for Scott, who is currently polling in the single digits with the rest of the pack, trailing DeSantis and far behind Trump, is how he can broaden his support and rise in the polls.
CLICK HERE TO GET THE FOX NEWS APP
"I think after the announcement I think the polls will start to change," Scott told Fox News. "I think there's an enthusiasm that will continue to spread throughout the country. And we'll start doing the things candidates do, which will include going back to Iowa, New Hampshire, South Carolina and beyond. So we'll spend the time, stay on the campaign trail, and make sure we have the message that works."
While Scott does not have the same national standing with conservatives that Trump and DeSantis enjoy, he is known as a ferocious fundraiser who had roughly $22 million in his campaign coffers at the end of March, which can be transferred to his presidential campaign. The fundraising war chest could give Scott a head start over some of his rivals for the Republican nomination.
He landed the endorsement of South Dakota Sen. John Thune – the number two Republican in the chamber – on the eve of his campaign launch. Thune traveled to South Carolina and delivered the opening prayer at Scott's event.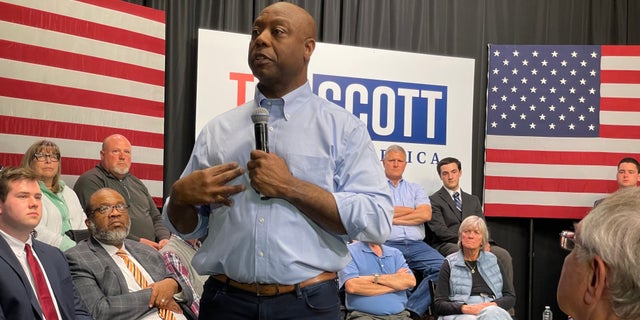 Scott began seriously moving towards a 2024 run as kicked off a "Faith in America" listening tour in February. That tour has taken the senator Iowa and New Hampshire, as well as his home state of South Carolina, which holds the third contest in the GOP primary and caucus lineup. 
CLICK HERE TO GET THE FOX NEWS APP
Scott will return to Iowa and New Hampshire on Wednesday and Thursday, following his campaign kick off.