Bollywood
TVF Sandeep Bhaiya: Director Parijat Joshi Gets Candid About The Show, Says 'There Was Honesty In It' | Exclusive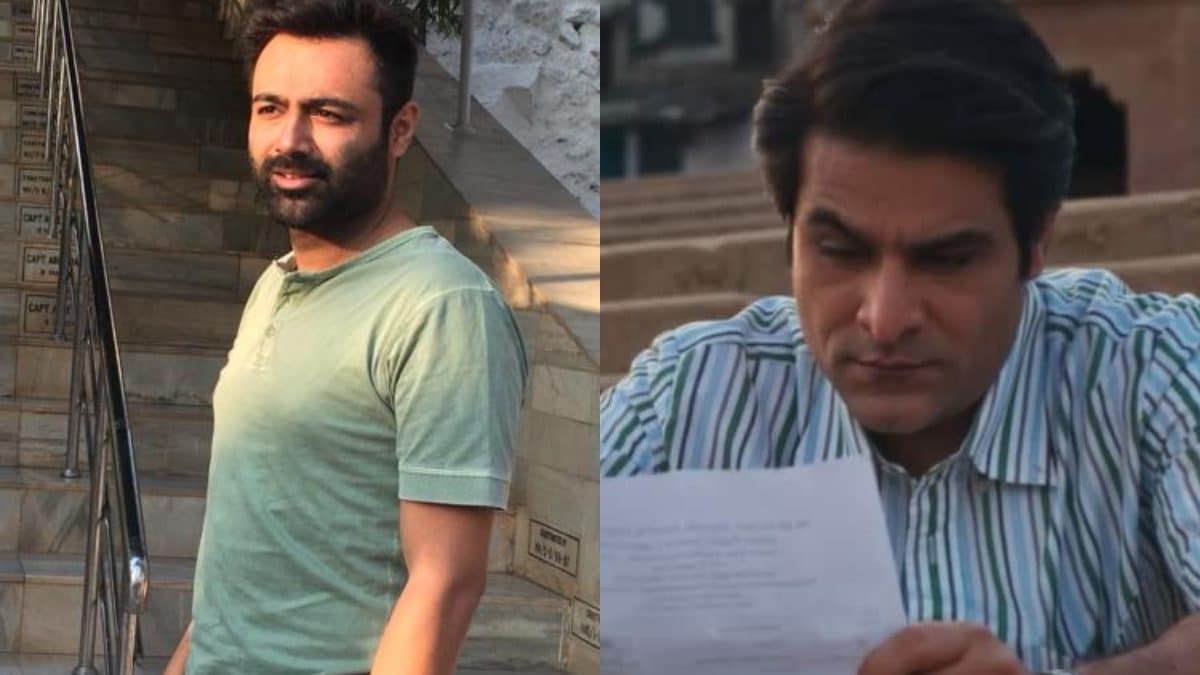 Sandeep Bhaiya is the latest hot show from the house of TVF. A spin-off of an already popular TVF series Aspirants, that traced the journey of three UPSC aspirants and friends, it was centered around a character that was loved by many, a pillar of hope and determination to all, but someone who couldn't make his mark in the civil services examination Sandeep Ohlan. The show clocked a stellar rating of 9.3 IMDB and was widely appreciated for it's realistic portrayal of characters and situations. Director of the show Parijat Joshi, who has previously helmed another season of a popular TVF show College Romance, got candid about the series during an exclusive interview with News18 Showsha.
Here are the excerpts:
On Sandeep Bhaiya's Stellar Reception
It's phenomenal. We are very happy with the response. I think it connected with people in more ways that one. People have felt emotional watching it. I got so many messages from people that they cried after a long time and that's like a personal victory. It's been overwhelming.
Challenges Of Making Sandeep Bhaiya
It was challenging. There are two aspects of this. One was the writing part of it and I think writers did a phenomenal job. Sandeep Bhaiya was already a well-established character and to take that character and do justice to it by opening him more and showing more of his traits. And maintaining that heaviness of the character, they have done a great job. We've also have not lost what we have given them in Aspirants and at the same point of time, we have added so many layers to it. The second part of it was direction. To take a legendary character and to be able to do justice to it was difficult. More than that, it was difficult to put him in a new place and surrounding him with new people. So viewers should also accept new people in his life because people would want to see Sandeep Bhaiya with Naveen, SK Sir. If people accept new characters, only then can Sandeep Bhaiya works. Overall, it turned out well.
Parijat Joshi Reveals Whether He Was Nervous To Carry Forward The Legacy Of Aspirants
Honestly speaking no. Because I think as a storyteller or as a film-maker, we just need to be honest with the character that we are putting on the screen. And the good part was that we all were very honest. We were not making the show just for the heck of it. There was a genuine extension to the story that we wanted to bring out. Also, because we were setting it up in Prayagraj, a new world was opening up with new characters. There was a responsibility for sure but we never felt the pressure that we won't be able to do justice to it. There was a lot of honesty in the writing and even the team was very forthcoming. Even during difficult circumstances, we were happy and positive about things.
Creating The Organic Bond Between Primary Characters
It was both good and challenging. Challenging because we had very less time to prep. First we did the readings of all the characters with the actors in a room over the course of five days. So everybody got the hang of how things needed to be done. We clarified all our doubts on the reading table. Sandeep and Deepali were two primary characters so their off-screen bonding was very important for it to reflect on screen. So I think, that whole thing was very organic. The way we would interact with each other during breaks in the reading process. Also, there was a conscious effort from both the actors to bond in real life. So essentially whatever that you see the dynamics between the mentor and the mentee, it was all established during the reading and then as we went on the floors, it kept developing. Because Deepali is a new actor and she is raw and at the same time, Sunny is brilliant in his own capacity. He is from FTII. So he was guiding her off-screen and that really helped Deepali. If an actor is raw, in that rawness, there is something that the world has not seen. But because there was guidance in that process, it could project on-screen. And Sunny is brilliant to work with. He is very good and we were shooting almost 14 hours a day for a lot of days. Overall everyone was bringing their game and like I said, it was a very honest set.
On Sandeep Bhaiya Being Set In Allahabad/Prayagraj
This was effectively a decision that was taken by the writers in the first place. Because they had researched a lot. Shreyansh Pandey who was the story writer of the show along with Nitin and Siddharth had done their groundwork before. While they were doing Aspirants, they knew Old Rajendra Nagar was famous in Delhi. Similarly, before old Rajendra Nagar became a popular hub for UPSC aspirants, Allahabad used to be the thriving place for students wanting to clear the examination. People used to stay a big chunk of civil servants came from Allahabad University. Infact, even the adda that we shot was right outside that University. We shot that on the main Katra road. We wanted to keep it authentic so I think writers were clear about the settings. That's why you'll see that Prayagraj has been imbibed in different episodes. Sometimes through food, sometimes through dialogues. And because Sandeep Bhaiya is set in 2014, Allahabad had started losing ground to New Delhi. That was also represented in the show wherein Allahabad has been depicted as a character in the script. I wanted to keep it authentic and shoot in live locations. It was difficult since that place is the hub for students but we pulled it off anyway.
Parijat Joshi On His Association With TVF
My association has been very good with them. This is my second show with them. I had directed College Romance 3 before this and even in that show, the kind of love that I got was phenomenal. With TVF, what happens is that they put a lot of effort on paper. And they give freedom to the teams. So effectively, the team that was working on this show, they had their own independence and they had their own time to develop stuff. And then they trust their team. They oversee it in a way that there is freedom and there is a good, healthy debate that can happen around it. When people are empowered, when a writer is empowered, when the director is empowered, when that happens, then they can bring their A-game. And then a lot of it comes from the experiences of new people.
Then they also give the freedom to research. Even as a director, I went to Allahabad thrice before we shot. That kind of freedom and belief gives that confidence that you can bring out something new and genuine. That what happens with most of the TVF shows, the belief that they transfer to the team.
Parijat Joshi Gets Candid About Directing College Romance
That's a very different show. Honestly, in my head, it's the Rohit Shetty show of TVF. What that show gives you in TVF, no other show does.
You can do action, drama, dance everything. That show is a lot of fun. It has a great reach and phenomenally developed characters in place. So people knew all of them already and they lover Bagga, they loved Nyra, they loved Dipika. That's like a fun show. It was a completely different space and Sandeep Bhaiya was a completely different space. It was a good experience in that as well because we as storytellers, we want to expand our horizons. Whatever story excites me, I want to get associated with that.
Parijat Joshi Reveals Whether He Likes Writing Or Direction More
I enjoy both the mediums and honestly speaking, a lot of my direction has helped me become a better writer. And because I am a writer, it helps me in direction. It is very co-related and I also discovered this when I directed more and more. I discovered that this really helps me in my writing and it helps me read the written material better. Let's say in a scene, there is a beat by beat progression. Understanding that automatically comes when I am directing. And vice versa. It's co-related. So I like to write and I love to direct but I enjoy both of them. It's been a journey and going forward, I want to do both. I am starting to write something and at the same time I am prepping to direct another project in a month or two.
Parijat Joshi Opens Up About His Road Trip Film With Sanjana Sanghi, Dia Mirza And Others
It's not similar to Zindagi Milegi Na Dobara but it's a road-trip film. It is about four women, who set out with their different conflicts and whether we learn anything from that road travel or not, the essence is basically that. And it has a very Desi take on things because what most Indians go through during travel, it gives it a lot of those elements and we have women of different age groups, who kind of go through this journey together and do they make it or not is essentially what the movie is about.
Few years ago, I was researching on this subject and this got my attention and then we met several bikers and travellers across India and we got their stories and then as we researched more and more, we built up on it. It took us time but finally, it'll be out soon.